Junior League Match Reports 12th February 2023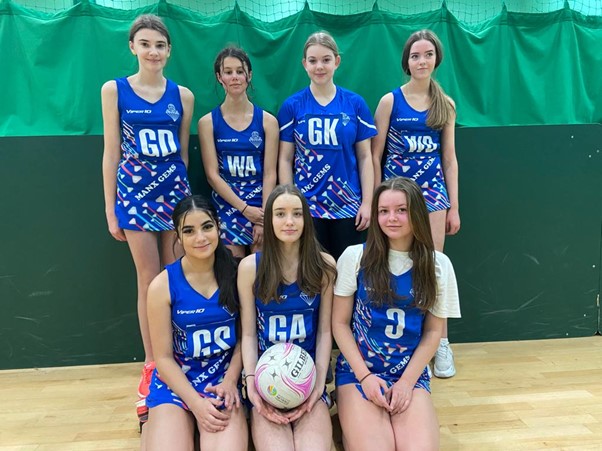 Under 15's Division 1
Route One Sparks 11 v Castletown Stars 25
The game started strongly from both sides with good attacking and defensive play being shown by both teams. Route 1 came off the blocks the quicker of the two teams, taking a 2-0 advantage. Route One's defensive team of Kate Morris and Macie Belle Kneen were making lives difficult for Castletown shooters (Charlie Corrie and June Fearnley). The first quarter ended 3-3.
The strength in defence for Route One was evident in the 2nd Quarter, with the addition of Kayla Henley and the mid-court for Castletown had to work hard around the circle edge to feed into the shooters. Lucy Smith and Lucy Corrin for Castletown worked hard against their opposition defending players Izzy Burns and Elisha Rawlinson, Q2 finished 7-6 to Castletown.
Castletown defence applied greater pressure in Q3 and Maia Guy and Erin Ross-Munro made it hard for Route 1 shooters Poppy Bregazzi, and Lily Kemp. The Castletown attack had finally settled into their rhythm and there were some great balls in from Evie Watterson at C & some equally acrobatic moves to keep the ball in play. Q3 ended 18-7 to Castletown.
Both teams gave it their all in the final quarter. There were some great shots from Castletown's Sydnie Kelly and some strong feeds into the Route One shooters from mid-court players Lois Kneen and Daisy-May Bignell. Both teams worked incredibly hard to the very end, showing great determination and persistence. The match finished 25-11 to Castletown.
This was a great game and POTM for both teams were Charlie Corrie and Macie Belle Kneen.
Under 15's Division 2
Castletown Rockets 7 v Manx Gems Amethysts 16
The game started slowly with both teams struggling to find their feet and the measure of the opposition. Amethysts had several scoring opportunities turned over by Castletown Rockets GK, Eva Dickinson, who read their play into the circle and made some great interceptions. The first quarter was close but the Amethysts took it 3-2. The Gems came out on court for the second quarter with much more energy and some lovely play from C Isla Palmer linking with WA Zoe Bridson to feed the shooters led to a run of goals from Georgia Halsall at GA and Zahara Iqbal-Corkish at GS. Sofia Grounds at WA for Castletown and Billie Campbell at C didn't back down and kept the pressure on midcourt throughout the quarter.
The third quarter started with all still to play for at 9-4 to Amethysts but strong mid court play from Amethysts' C Isla Palmer with WD Erin Kirkwood and GD Emilia Lovett working hard to move the ball up the court, and intelligent circle play saw Amethysts pull away on the scoreboard. Castletown put together some good attacking moves through their WA Sofia Grounds, GA Emilie Saabaye and GS Roma Forfar, but Amethysts' GK Molly Bevan and GD Emilia Lovett worked hard to close down Castletown's attack and regain possession. At the other end, there were further well-read interceptions from Castletown GK and GD Mille Shaw, but Castletown failed to capitalise on their opportunities on the turn over. Amethysts' mid court and attack dominated the final quarter with consistent shooting from GA Georgia Halsall, ending with a final score of 16-7 to Amethysts. POTM was C Isla Palmer for Amethysts and GA Emilie Saabye for Castletown. Manx Gems would like to thank their sponsor, Island Tyres & Autocare, for their support.
Under 13's Division 1
Thompson Cubs 28 v Simcocks Black Eagles 12
The game between Thompson and Simcock's is always going to be a tight game with both teams looking for the win. Thompson got the game started after winning the coin toss and took the first centre pass. Working well as a team Thompson got the ball through the court down to the shooting circles to convert the first goal. Both teams put pressure on the other team getting their arms up over the ball. Simcock's made it hard for Thompson, their defence was sticking tight to the Thompson attack, making them have to think about the next pass.
Both teams made changes throughout the game, Thompsons defence was strong in turning over the ball or getting rebounds. The ball was passed down the court to the two shooters who both had their eye in and were putting shots up from distance.
All the players on both teams gave 100% and it was a lovely game to watch. The game finished 28-12 to Thompson.
POTM went to Amelie Geldart From Thompson and Lola H-W from Simcock's
Under 13's Division 2
Route One Amps 11 v Manx Gems Ambers 1
Route 1 won the first centre pass and got the game underway, with some good passing and team
work Route 1 took the lead. Route 1 dominated the 1st quarter. Both teams made some good passes but it was Route 1 that took the lead. The first quarter ended 3-0 to Route 1
In the second quarter both teams make some good passes and interceptions so the ball went back
and forth. Manx Gems Ambers made route 1 shooters work hard for the ball. Route 1 were able to
covert 3 goals and Route 1 were 6-0 up.
Starting the third quarter Manx gems Ambers got passed Route 1 defence and got their first goal of
the match. Manx Gems Ambers made Route 1 work hard for the rest of the third quarter. Route 1
broke through and managed to get a few more goals, the score by the end of the third quarter was
9-0 to Route 1 Amps.
Going in to the fourth quarter again good passing from both sides both teams tried very hard to get
the ball into the shooting circle and both teams defence were making this very difficult, possession
of the ball constantly changing, Route 1 managed to get through and scored 2 more goals.
Route 1 won the game 11-1
POTM Route 1 Amps Poppy Bezance and Manx Gems Ambers Anna Keddu