Santander International Senior League Match Reports - 4 December 2022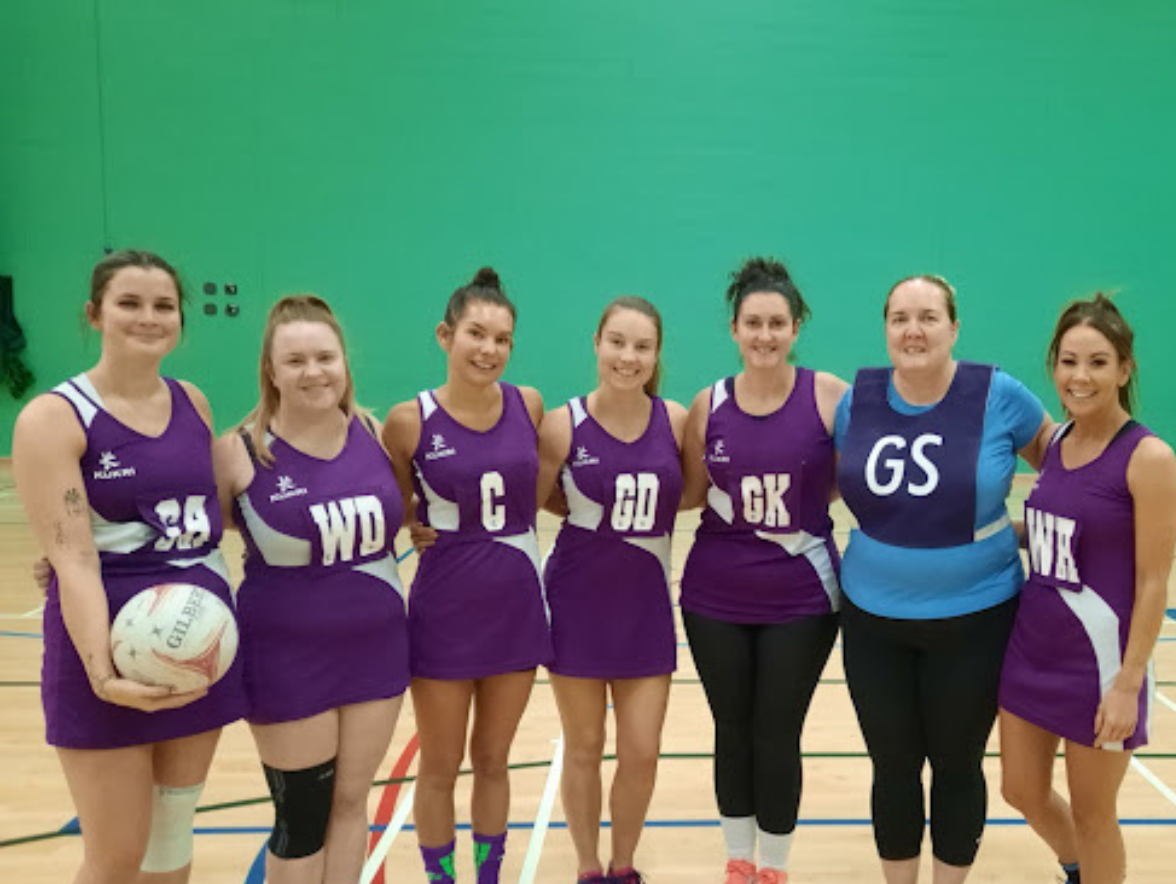 Premiership
Suntera Global Ballasalla Blizzards, 28  v Simcock Blue Eagles, 24
POTM: Fiona Kemp for Simcocks Blue Eagles
The first quarter of this game was goal for goal. Ballasalla put lots of faith in their youth and started with three Under 18's in attack. Charlie Callow-Moore worked tirelessly around Gemma Kirkham in the shooting circle to create opportunities, but with lots of possession being stolen in the mid-court, the score remained low. The first quarter ended 6-4 to Ballasalla.
 Both teams found their rhythm more in the second quarter. Erin Keggen came on well at goal shooter for Simcocks, with both her and Goal Attack Sarah Corkish slotting the ball in the net from anywhere. There was still no clear leader going into the second half and still only two goals difference. With some clever play from Danielle Murphy in the shooting circle and some great intercepts from Becky Dunne in defence, Ballasalla were able to slightly extend the lead to 4 at three quarter time. 
In the final quarter Simcocks made a final push for the game. Ellan Charmer and Vivia Duffy caused all sorts of problems for the Ballasalla shooting circle. This combined with the control that Clare Belcher-Smith and Fiona Kemp were showing down court meant that Simcocks were able to bring the game to level. But Ballasalla upped their determination and were able to claw back their lead, winning the game 28-24. 
Championship
Manx Gems Sapphires, 13  v Thompson 2, 35
POTM: Chloe Schofield for Thompson 2
As Manx Gems Sapphires started the game with only 5 players, Thompson 2 were able to capitalise on that from the beginning. Persistent pressure from Thompson's defence, Charlotte Christian (GD) and Rochelle Boyd (GK) meant the first quarter ended 8 - 5.
With Sabrina Crowe (GK) being joined by Hannah Halsall (GD), Gems were able to gain turnovers in the second quarter to bring the ball down with pace to their shooters Alisha Fitzgerald (GA) and Lucy Brown (GS). Unfortunately for Gems, they continued with 6 players for the majority of the game which resulted in Katie Keenan (WA) and Ashleigh Baines (C) needing to work really hard in order to ensure the transition down the court was successful. This was challenged by Thompson's Hannah Clague (WD) who secured many interceptions for her team.
 By the end of the third quarter, Thompson had pushed ahead to make it 22 - 10. Sharp feeds into the shooters from Karen Duncan (C) and unmarked Ellie Hughes (WA) allowed the Thompson shooters to play the ball in and out in order to be in a comfortable shooting position. Effective communication from the strong shooting combination of Chloe Schofield (GA) and Emily Gaylor (GS) led Thompson to their first win of the season. Excellent movement and accurate shooting from Chloe gained her player of the match. The game ended 35 - 13.
Division 1
Suntera Global Ballasalla Drifts, 33  v Suntera Global Ballasalla Earthquakes, 11
POTM: Lucy Radcliffe for Suntera Global Ballasalla Drifts
Suntera Global Ballasalla Drifts started off strong with sound centre passes from Annelise Mellor, C and Charlotte Thompson at WA feeding into the circle to Lily Gill, GA and Lucy Radcliffe, GS to take the lead, despite close marking in defence from Suntera Global Ballasalla Earthquakes Gemma White, GK, Charlotte Brooks, GD and Caitlin Henery at WD.  By the end of the first quarter, Suntera Global Ballasalla Drifts led by 6 goals with the score 9-3.  
Both Suntera Global Ballasalla teams made some changes in the second quarter with Suntera Global Ballasalla Earthquakes bringing on Alicia Kewley to GD and changing Charlotte Brooks to WD. With some missed opportunities by the Suntera Global Ballasalla Earthquakes shooters Rebecca Hands, GA and Megan Sheward, GS Suntera Global Ballasalla Drifts defenders Clare Crowe, GK and Amy Gelling, GD capitalised on securing the rebounds and were quick to bring the ball down the court with the help of Annabelle Clague at WD to shooters Jo Hicks and Lily Gill to score 8 goals.  The score at half time saw Suntera Global Ballasalla Drifts leading 17 -4.    
Suntera Global Ballasalla Earthquakes continued to attack in the second half with solid centre play by Janet Lawrinson at C and with Rebecca Hands now at WA were able to feed into the shooting circle to Caitlin Henery, GA and Megan Sherwood at GS scoring 4 goals. With both teams contesting the ball and great interceptions from Ballasalla Drifts Gemma Kermode at WD and Amy Gelling at GD during this quarter, Suntera Global Ballasalla Drifts continued their lead 22:8.
The last quarter saw Suntera Global Ballasalla Earthquakes working hard with tight defence by Eliza Raynor at WD and in the circle Alicia Kewley at GD and Gemma White, GK but Suntera Global Ballasalla Drifts dominated attack and won the game 11:33. Player of the match was awarded to Lucy Radcliffe from Suntera Global Ballasalla Drifts.   
Division 2
Castletown Vikings, 18  v Castletown Jets, 36
POTM: Breesha Collister for Castletown Jets
The re-match for these two Castletown teams was a match that was going to see both teams coming out fighting. Jets had taken the win in their last game, although Vikings had led for the majority of the match, but it had seen Jets snatch the win in the latter part of the game and so, Jets wanted to carry on with their winning streak and Vikings wanted to even the score.
Jets came out strong from the first whistle, which saw shooters on point and the defensive circle of Imogen Beech and Summer Sadler,  gaining repeated turnover in the circle. Vikings struggled to break their momentum and the first quarter saw a dominant Jets team take a  lead of 14 goals to 2.
Vikings team made a lot of changes to address the challenge coming from Jets. It saw Sofia Douglas move to C, Issy Cutts move to WA and Phoebe,Michelle and Olivia, take on the strong Jets attacking side. Vikings were finding better flow in their attacking side but Jets shooting duo of Ruby Watterson and Amy Potts were unstoppable and continued with their dominant shooting, which saw the first half end 24-5.
The second half saw better play from the Vikings team and GS, Jess Quigley and GA, Amelie Hutchinson were finding each other easier, with some lovely feeds helping them to increase their score as well as Ciara Whelan moving to GD, which helped the Viking Defense. Jets speed through the court, however, led by their Captain Molly Zybert, was simply impressive to watch and the quarter ended 32-11.
The final quarter, saw Vikings manage to take control and the quarter, however, the impressive play that the youngsters from Castletown Jets had shown all through the match won them the match comfortably by 36 goals to 16. There was a shining player from the Jets team as no matter where she played, be it GA,C or GD, there was no denying her presence on court was key for the team and Bree Collister quite rightly earned herself the Player of the Match accolade.