Senior League Match Reports - 7 November 2021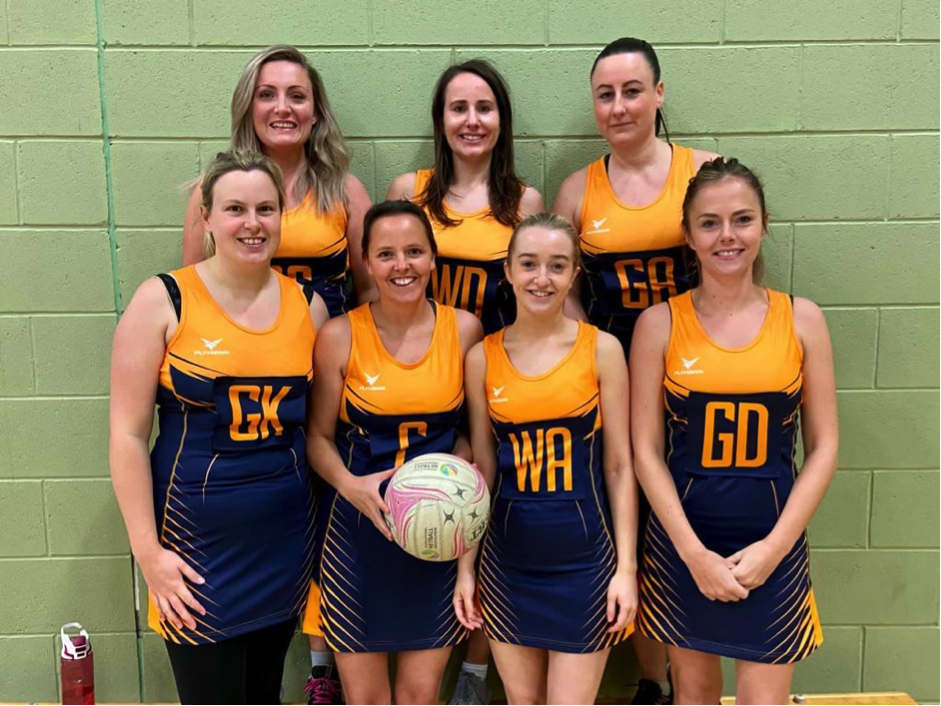 PREMIERSHIP
Simcocks Red Eagles 56 v Simcocks Gold Eagles 20
POTM Chloe Gale for Simcocks Red Eagles
Sunday saw Simcocks Gold play the unbeaten Simcocks Red! A game where both teams were quick and focused on ensuring the ball was successful sent into their shooters for Simcocks Gold Sam Dunn GA and Helena Allen GS and for Simcocks Red GA Chloe Swales and GS Aalish Bridson, to capitalise them from the off.
Golds defence (GD Jess Hatton and GK Alice Hodgson) consistently attempted to put pressure on the shooting efforts of Bridson and Swales, but the red shooters were not missing. Lucy Faragher, WD made some fantastic tips and interceptions when Reds were making their attacking drives, allowing Golds to turnover and have another chance at scoring.
Midcourt players for both teams provided constant support throughout the game. Rachel Johnstone, Simcock Reds C, as usual was anywhere and everywhere making interceptions left, right and centre and nicely feeding the ball into shooters to allow Reds to take the lead. Both teams played well collectively, and it was fantastic to see all players supporting one another throughout the game. The game ended 56 - 20 to Simcocks Red.
CHAMPIONSHIP
Marbree Missfits B 48 v Simcocks Green Eagles 18
POTM Christee Sayle for Marbree Missfits B
With neither team having won a match so far this season, both Marbree Misfits and Simcocks Eagles were eager for a win. Taking the first centre pass, Marbree however, began to dominate possession which reflected in a five-goal lead after the first quarter. Marbree smoothy and quickly fed the ball down the court and into the circle, where both GA and POTM, Christie Sayle and Hannah Quinn worked as an unstoppable duo to score a further 14 goals in the second quarter taking them into a 15 goal lead ahead of Simcocks.
Despite this, there were some good interceptions from the Simcocks team and rebounds picked up by GK, Megan Howland who quickly fed the ball back down to the Simcocks' end. Simcocks displayed rapid movement around the circle with their C, Roviana Szetu, driving the ball into the shooters, which when successful, allowed GA, Hannah Skeehan, to rarely miss a shot. However, relentless pressure from Marbree's GK, Amy Pointon and GD, Sophie Reynolds often forced the ball out of court.
Marbree continued their high scoring streak, with mid court players, Rebekah Pate, Becky Poole and Michelle Cannell keeping the continuous fast pace of the game, out running the Simcocks players to allow both Quinn and Sayle to end the game with a 30-goal lead and a well-deserved 48-18 win for  the Marbree team.
DIVISION 1
Marbree Missfits C 28 v Manx Gems Emeralds 26
POTM Tara Murphy for Marbree Missfits C
It was clear from the whistle that both teams were fired up for this game and ready to fight for the win.  Marbree Missfits had a strong start to the game with Manx Gems initially having only 6 players.  Storming ahead in the first few minutes, Marbree  Missfits took a lead 4-0. However, it didn't take long for Manx Gems to answer.  They quickly pulled it back, using their height to their advantage in both their attacking and defending circles. Both Cs, Dawn Quinn (Manx Gems) and Emma Riley (Marbree Missfits), were assets to their teams showcasing their speed and agility; both making several successful interceptions.  
Marbree Missfits defence put pressure on the Manx Gems shooters and came out with some impressive turnovers which Jen Walker (WD), Emma Riley (C) and Rebekah Dalrymple (WA) were able to bring smoothly down the court and pass clean into their circle where Tara Murphy (GA) and Sophie Wade (GS) worked well to put up fantastic shots. 
In the second half Gems gave their best efforts to try and edge ahead with some great play. Alex Wilson-Spratt (GA) teamed with Jill Festorazzi (GS) started to find their rhythm. Wilson Spratt made excellent movements into the circle and scored some crucial shots in from a distance as the pair converted more confidently bringing the game to 22-21 to Marbree Missfits.  
Heading into the last quarter with only one point difference it was all to play for, both teams worked hard for the win. Throughout the game, the Manx Gems defense didn't give up and put up a good fight to continually contest every ball. However, Marbree Missfits were able to really slow down the play for Manx Gems in Centre court putting pressure on Quinn and Lynette Corran (WA) who worked tirelessly to bring the ball down to the circle.  
The game was neck and neck. Marbree Missfits' strong shooting duo, Wade and Murphy, worked beautifully together and this, coupled with impeccably timed passes fed in from Riley and Dalrymple, ensured that Marbree Missfits came out eventual winners, 28-26. POTM went to Tara Murphy (GA - Marbree Missfits).
DIVISION 2
Castletown Vikings 22 v Thompson Travel 3 18
POTM Lydia Wylie for Thompson Travel 3
Castletown‌ ‌Vikings‌ ‌won‌ ‌the‌ ‌toss‌ ‌and‌ ‌chose‌ ‌first‌ ‌centre.‌ ‌The‌ ‌first‌ ‌quarter‌ ‌saw‌ ‌both‌ ‌teams‌ ‌throwing‌ ‌accurate‌ ‌passes‌ ‌and‌ ‌working‌ ‌well‌ ‌together.‌ ‌Accurate‌ ‌shooting‌ ‌by‌ ‌Jess‌ ‌Quigley,‌ ‌GA‌ ‌for‌ ‌Thompson‌ ‌and‌ ‌Kirsty‌ ‌McConnell,‌ ‌GA‌ ‌for‌ ‌Viking‌ ‌saw‌ ‌the‌ ‌goals‌ ‌going‌ ‌in.‌  ‌It‌ ‌was‌ ‌an‌ ‌even‌ ‌first‌ ‌half,‌ ‌finishing‌ ‌with‌ ‌Thompson‌ ‌leading‌ ‌7‌ ‌–‌ ‌6.‌ ‌
Castletown‌ ‌Vikings‌ ‌had‌ ‌a‌ ‌better‌ ‌second‌ ‌half‌ ‌with‌ ‌Leanne‌ ‌Smiley,‌ ‌WA‌ ‌receiving‌ ‌the‌ ‌centre‌ ‌pass‌ ‌and‌ ‌together‌ ‌with‌ ‌Sofia‌ ‌Douglas,‌ ‌C,‌ ‌feeding‌ ‌accurate‌ ‌ball‌ ‌to‌ ‌Kirsty‌ ‌inside‌ ‌the‌ ‌circle,‌ ‌brought‌ ‌them‌ ‌into‌ ‌the‌ ‌lead‌ ‌by‌ ‌3‌ ‌goals‌ ‌ahead‌ ‌of‌ ‌Thompson.‌  ‌Olivia‌ ‌Cregeen,‌ ‌GD‌ ‌defended‌ ‌well,‌ ‌being‌ ‌a‌ ‌tall‌ ‌player‌ ‌with‌ ‌a‌ ‌great‌ ‌reach‌ ‌and‌ ‌with‌ ‌the‌ ‌help‌ ‌of‌ ‌Helen‌ ‌Parker,‌ ‌GK‌ ‌managed‌ ‌to‌ ‌keep‌ ‌the‌ ‌ball‌ ‌away‌ ‌from‌ ‌Thompson's‌ ‌net,‌ ‌nicely‌ ‌passing‌ ‌to‌ ‌Amy‌ ‌Bloch,‌ ‌WD.‌  ‌Half‌ ‌time‌ ‌score‌ ‌13‌ ‌–‌ ‌10‌ ‌to‌ ‌Vikings.‌ ‌
 A‌ ‌change‌ ‌of‌ ‌tactics‌ ‌by‌ ‌Thompson‌ ‌during‌ ‌the‌ ‌third‌ ‌quarter‌ ‌found‌ ‌Lydia‌ ‌Wylie,‌ ‌GD‌ ‌intercepting‌ ‌many‌ ‌passes‌ ‌foiling‌ ‌the‌ ‌attempt‌ ‌of‌ ‌Viking's‌ ‌Kirsty‌ ‌McConnell,‌ ‌GA.‌ With‌ ‌the‌ ‌ball‌ ‌being‌ ‌passed‌ ‌through‌ ‌the‌ ‌centre‌ ‌third‌ ‌by‌ ‌Grace‌ ‌Maddocks,‌ ‌WD‌ ‌and‌ ‌Emily‌ ‌Kirkham,‌ ‌C‌ ‌it‌ ‌was‌ ‌fed‌ ‌into‌ ‌the‌ ‌circle‌ ‌by‌ ‌Holly‌ ‌Roberts,‌ ‌WA‌ ‌.‌  ‌Thompson‌ ‌made‌ ‌short‌ ‌work‌ ‌of‌ ‌putting‌ ‌it‌ ‌through‌ ‌the‌ ‌net‌ ‌with‌ ‌Jess‌ ‌Quigley,‌ ‌GA‌ ‌and‌ ‌Zharah‌ ‌Hewlett,‌ ‌GS‌ ‌working‌ ‌well‌ ‌together.‌ ‌This‌ ‌was‌ ‌repeated‌ ‌throughout‌ ‌this‌ ‌quarter‌ ‌with‌ ‌some‌ ‌excellent‌ ‌shooting‌ ‌by‌ ‌both‌ ‌Thompson‌ ‌attackers.‌ At‌ ‌the‌ ‌end‌ ‌of‌ ‌the‌ ‌quarter‌ ‌Thompson‌ ‌were‌ ‌back‌ ‌in‌ ‌the‌ ‌lead,‌ ‌leading‌ ‌by‌ ‌2‌ ‌goals‌ ‌with‌ ‌the‌ ‌score‌ ‌being‌ ‌17-15.‌ ‌
Determined‌ ‌to‌ ‌win‌ ‌Thompson‌ ‌gave‌ ‌it‌ ‌their‌ ‌all‌ ‌in‌ ‌the‌ ‌last‌ ‌quarter.‌ ‌Vikings,‌ ‌having‌ ‌the‌ ‌same‌ ‌idea,‌ ‌increased‌ ‌play‌ ‌to‌ ‌storm‌ ‌ahead‌ ‌with‌ ‌some‌ ‌great‌ ‌passing‌ ‌,‌ ‌resulting‌ ‌in‌ ‌a‌ ‌barrage‌ ‌of‌ ‌goals‌ ‌despite‌ ‌the‌ ‌ efforts‌ ‌of‌ ‌Julia‌ ‌Carrol,‌ ‌GK‌ ‌for‌ ‌Thompson‌ ‌trying‌ ‌hard‌ ‌to‌ ‌block‌ ‌Viking's‌ ‌Ruby‌ ‌Watterson,‌ ‌GS.‌ ‌Vikings‌ ‌ came‌ ‌back‌ ‌to‌ ‌win‌ ‌with‌ ‌the‌ ‌final‌ ‌score‌ ‌being‌ ‌Vikings‌ ‌22‌ ‌and‌ ‌Thompson‌ ‌18.‌ ‌ ‌
A‌ ‌well-deserved‌ ‌Player‌ ‌of‌ ‌the‌ ‌match‌ ‌was‌ ‌Lydia‌ ‌Wylie‌ ‌who‌ ‌came‌ ‌alive‌ ‌in‌ ‌the‌ ‌last‌ ‌two‌ ‌quarters‌ ‌and‌ ‌ defended‌ ‌well,‌ ‌turning‌ ‌around‌ ‌the‌ ‌result‌ ‌of‌ ‌the‌ ‌match‌ ‌in‌ ‌the‌ ‌third‌ ‌quarter.‌ ‌
Pictured: Marbree Missfits B