Senior League Match Reports - 6 February 2022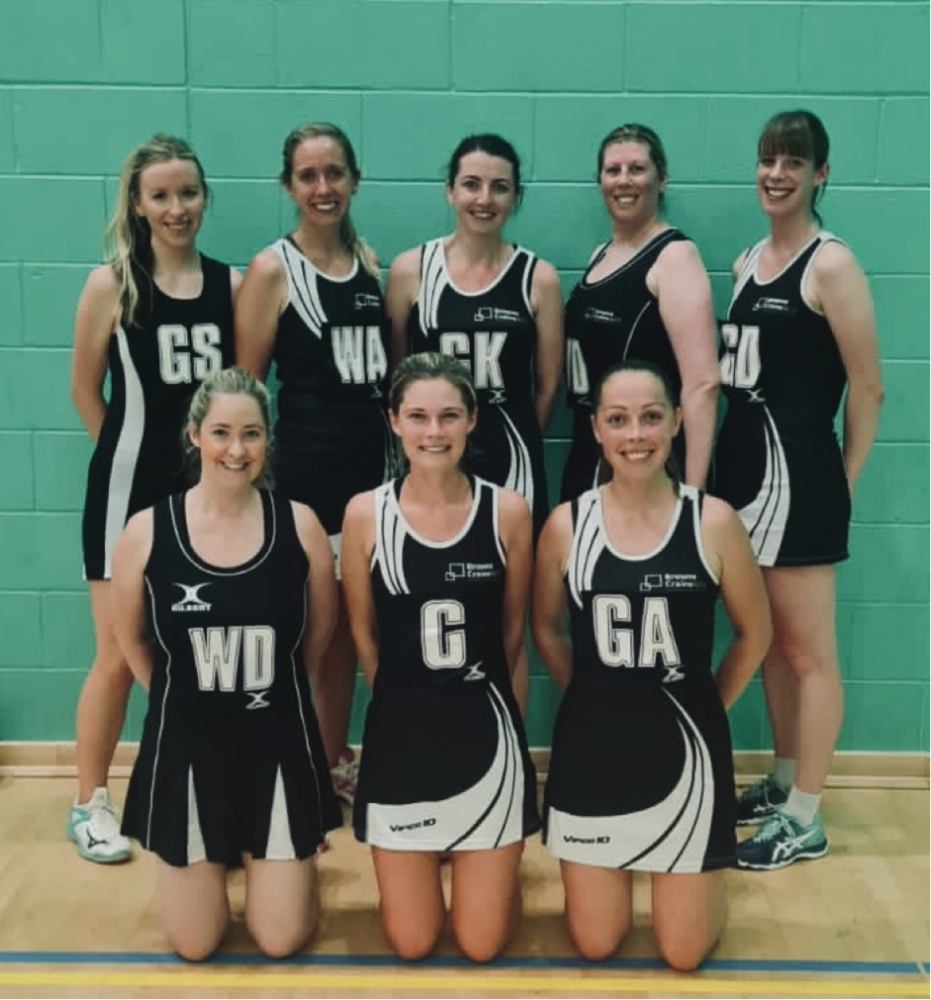 CHAMPIONSHIP
Route 1 Turbos, 20 v Atla Group Pumas, 38
POTM Hazel Bailey for Atla Group Pumas
This was always going to be a tough match for Route 1 Turbos against top of the table Atla Group Pumas. But Turbos were keen to prove themselves after their last meeting and improve on their previous score. In the first quarter, the experienced Pumas took an early lead as a quieter than normal Turbos took their time to settle into the game. The first quarter ended with Pumas taking a 7-goal lead. 
After a motivating quarter time team talk, a livelier Turbos returned to the court for the 2nd quarter with Elena Reid moving to GA, Kate Doran taking the Centre bib and Alice Willoughby moving to WA. These mid-court players linked well with one another and provided excellent support to their shooters on the circle edge who were under great pressure from the Pumas defensive duo of Caroline Maddrell and Zoe Shimmin Mann. Ella Webster (Turbo's GS) held her own in the circle and hardly missed a shot. The improvement in Turbo's game was evident from the number of goals scored in this quarter with them scoring 6 to Pumas 9.
In the 3rd quarter, Turbos continued to improve and there was some impressive defence on display from Freya Skillicorn (GD) and Olivia Quayle (GK) who worked hard to limit the movement of the skilful Hazel Bailey (GA) and Alex Cashin (GS) resulting in them making many timely interceptions which Turbos managed to to convert to goal at their end. 
In the final quarter, Pumas, who are unbeaten in the Championship Division this season, continued with the same intensity they had in the first quarter and ran away from Turbos. The final score was 20-38 to Pumas. This was an enjoyable and well-contested game for all which ensured that Turbos received an important half-point. POTM went to Hazel Bailey for Atla Group Pumas.
DIVISION 1
Atla Group Panthers, 31 v Ramsey Blacks,39
POTM Ariana Kerruish for Ramsey Blacks
Both teams took to court with intent, but it was Ramsey who took an early 3 goal lead making the most of their opportunities in the first quarter. Panthers soon regained composure and the two teams matched goal for goal for a period despite some persistent defence from Panthers' Jess Edmond (GK) & Beth Hall (GD) in Ramsey's attacking circle.
Swift attacking from the centre pass and some beautiful movement around the circle, saw Ramsey's Ariana Kerruish (GA) and Bryony Callow-Thomas (GS) in fine form, barely missing a shot and converting most rebounds. Panthers and Ramsey both worked hard to defend, intercepting frequently but with few turnovers except for technical errors, this game was a game of attack.  With some beautiful feeds into the circle by Nicole Pressley (WA) and Amber Pullen (C) and little error in the shooting circle, Blacks took a half time lead of 21-15.
Ramsey made a few tactical changes, which were mirrored by Panthers. Despite the relative silence on court and what seemed to be a slow start, both attacking circles worked hard to convert their shots. Panthers' Courtney Quinn (GA) & Robyn Millar (GS) had found their flow, but Ramsey's defensive duo Sarah Nash (GK) and Emily Craig (GD) worked hard to minimise opportunity. Panthers' defence also pressurised the Ramsey attacking formation meaning the quarter score was 8-1 to Ramsey. Leading into the final quarter, the score was 22-29 to Ramsey.
Panthers stepped up their game, really showing they meant business in the final quarter. For a moment they closed the score line to 4 goals, capitalising on lost Ramsey balls and converting 3 in a row but the Northerners came back with force and some fabulous interceptions across the court. Blacks' Ellie Johnston (WA) opened space around the circle enabling quick feeds into the attack. Ramsey had to work hard to maintain possession, but their determination proved vital and was enough to secure a 39-31 victory.
Pictured Atla Group Pumas