Senior League Match Reports - 27 February 2022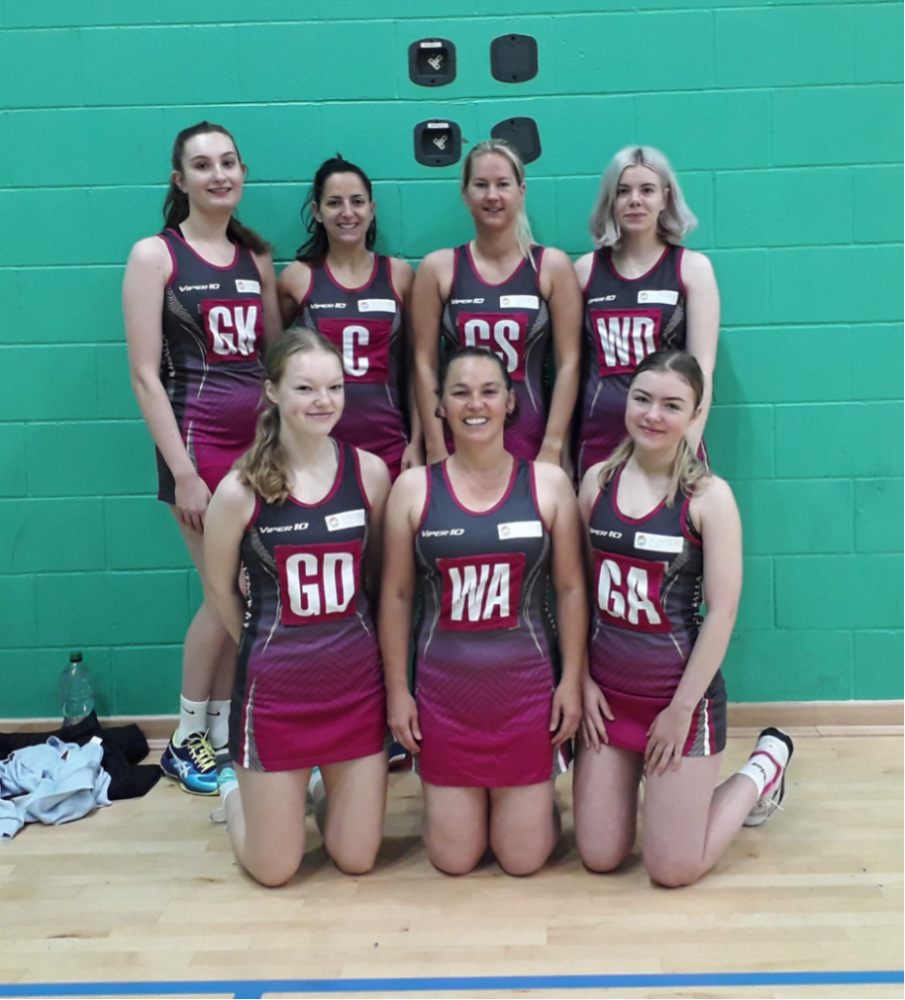 PREMIERSHIP
Route 1 Connections,28  v Suntera Global Ballasalla Blizzards,27
POTM Eliana Kneen for Route 1 Connections
This was an exciting game from the start with each team taking a few minutes to settle into the game.  Eliana Kneen started the game strongly with some accurate long-range shooting.  Route 1 ended the first quarter up by 1 goal with the centre pass to start the next quarter. 
Route 1 started the second quarter looking to increase the 1 goal lead and Ballasalla were not going to make it easy for them.   With the defensive pressure of Lydia Shaw managing to create turn overs for her team.This kept Ballasalla in touch with the scoreline and the score at half time was 15-11 to Route 1. 
As always, Ballsalla came out fighting in the second half seeing some good turn overs from the defensive duo of Clair Barks and Sarah Lister and fantastic shooting from Mairi Harrsion saw Ballasalla  starting to decrease the small gap in the score, finishing at 22-19 to Route 1.  The last quarter saw some exciting netball with some fast play through the court from Sara Watterson and Rhian Evans for Route 1 and composed shooting from Mairi Harrision supported by GA Ashley Hall for Ballasalla.  Route 1 managed to keep their cool and finish the game only 1 goal ahead, another exciting game for the Isle of Man Netball League.
CHAMPIONSHIP
Suntera Global Ballasalla Cyclones,34 v Route 1 Turbos,21       
POTM Mairi Harrison for Ballasalla Suntera Global Cyclones
Next to each other in the league table, this game was always going to be a close call between the two teams. The first two quarters witnessed both teams remain close together and the game was pretty much goal for goal. The leading team went back and forth between the two sides and when halftime came, the score was 15 – 13 to Ballasalla Cyclones.
The game continued and by half-way through the third quarter Cyclones began to show more dominance, with Mairi Harrison (C) and Lauren Raatgever (WA) bringing the ball down into the shooters with relative ease. Turbo's defence gave a tough challenge to the Cyclones, but the rebounds were often in Cyclones's favour allowing them to pull away to 23-19 at the end of the third quarter.
The last quarter was Cyclones best quarter and saw them win the quarter by 12 goals to 3. The energy levels had been revived and touches from Cyclones defence allowed for turnovers which were capitalised on by their shooters. The game ended 34-21 to Ballasalla Cyclones. The POTM went to Mairi Harrison (C) who was effective at not just bringing the ball down court but also achieving interceptions whilst defending.
DIVISION 1
Suntera Global Ballasalla Earthquakes, 17 v Suntera Global Ballasalla Drifts,16
POTM Lucy Radcliffe for Suntera Global Ballasalla Drifts
Suntera Ballasalla Drifts started off strong with sound centre passes from Georgia Walton playing at C feeding into the shooting circle to Lucy Radcliffe at GA and Caitlin Henery at GS to lead 2-0. Quick interceptions by Gemma White, GK, for Suntera Ballasalla Earthquakes and some missed opportunities in the circle however meant that by the end of the first quarter, Suntera Ballasalla Earthquakes led by 3 goals.  
Suntera Ballasalla Drifts made some changes in the second quarter bringing Sophie Radcliffe to GS and changing Caitlin Henery to WD but with great shooting by Rebecca Hands GS for Suntera Ballasalla Earthquakes and solid centre play by Megan Carey at C and Hollie McGowan at WA they continued their lead to 10-7 at half time.  Both teams contested the ball and the fast paced third quarter saw Suntera Ballasalla Drifts showing great defence by Daisy Downs at GK and Steph Haslett at GD and support in attack and around the shooting circle by Janet Lawrinson at WA finding Lucy Radcliffe GA and Sophie Radcliffe GS to bring the score to level 12-12 at half time. 
The last quarter continued with Clare Crowe GK and Gemma Kermode at WD for Suntera Ballasalla Earthquakes gaining some great interceptions and rebounds and Jo Hicks GS, long range shooting meant that Ballasalla Earthquakes took the win by 1 goal. Player of the match was awarded to Lucy Radcliffe for Suntera Ballasalla Drifts. Final Score 16-17 to Suntera Ballasalla Earthquakes.