Senior League Match Reports - 26 September 2021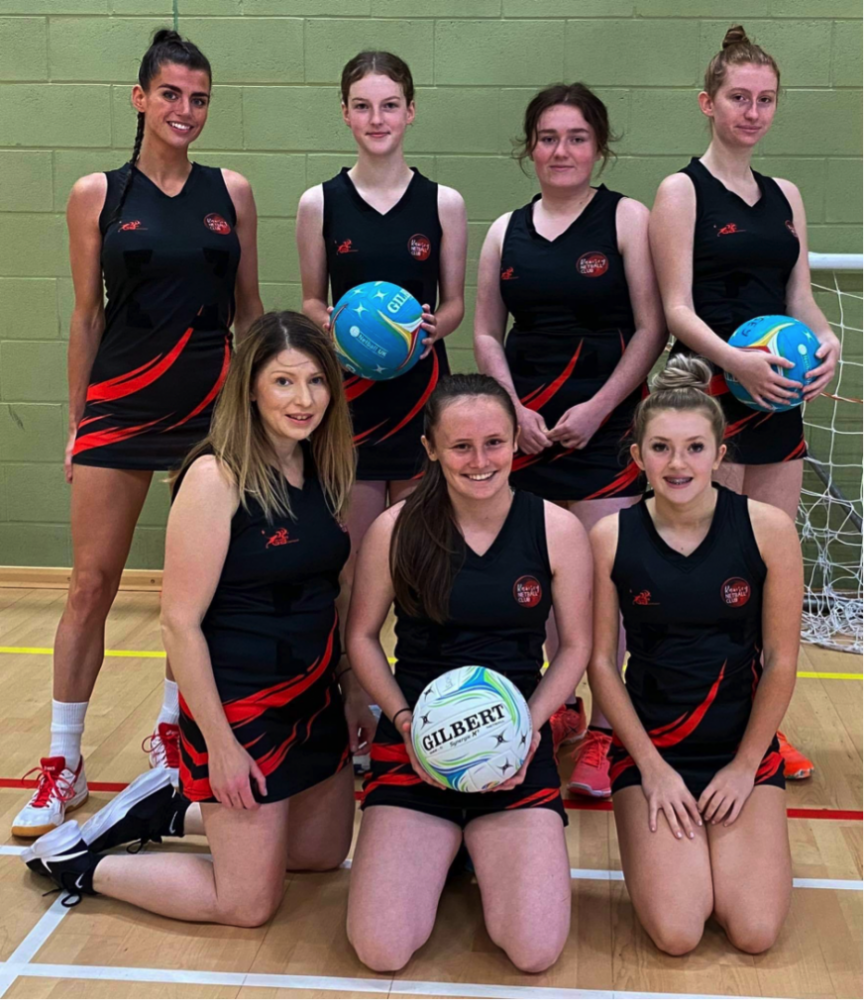 PREMIERSHIP
Thompson Travel 1, 46  v Suntera Global Ballasalla Blizzards, 32
POTM Lydia Shaw for Suntera Global Ballasalla Blizzards
From the first whistle, this game was going goal for goal. Both teams working the ball through the court nicely to their shooters. Ballasalla goalkeeper Zoe Kirkham forced some long shots, but that was no problem for Thompson GA, Alice Cross who sank them easily which ensured Ballasalla finished the first quarter with only a slim lead of 2 goals. Much was the same in the second quarter.
Thompson's Molly Christian brought the ball through the centre court easily for her team and found her sister Fern at wing attack in their shooting third. While Mairi Harrison did the same for Ballasalla as wing defence, with Amelia Brockbanks offering nicely around the circle edge. Ballasalla won the quarter again adding a further two goals to the difference. The third quarter saw Mika Chen gain some ball for Thompson from the centre pass but the Ballasalla shooting circle began to fire. Ashley Hall was able to find goal shooter Kate Tebay who offered for both high and low balls, while Charlie-Callow Moore's movement created many opportunities.
Ballasalla went into the final quarter with a ten-goal lead. Thompson were not ready to give up though, and they got the first three goals in an attempted come-back, but Ballasalla's goal defence Lydia Shaw was determined to stop it and came out with some impressive interceptions in the centre third to drive her team to victory. Ballasalla won the game 46-32 and player of the match was awarded to Lydia Shaw. 
CHAMPIONSHIP
Castletown Spaniards, 53 v Simcocks Green Eagles,12
POTM Holly Charmer for Castletown Spaniards
Castletown Spaniards came out very strong in the first quarter. Holly Charmer, who played her first Championship game fitted in perfectly with the Spaniards attack, and with some amazing defensive work from Bree Mclaughlin (GD) and Ruth Kinnish (GK). Spaniards led the first quarter 17 to 1. In the second quarter Simcocks Green decided to stick in their positions from the first quarter. Castletown Spaniards made a few changes. Simcocks Green Roviana Szetu (C) and Olivia Cowley worked hard in mid court to try to feed into their shooters. Castletown Spaniards played a very defensive game managing to turn over several balls in their favour. The second quarter ended 26-4 to Castletown Spaniards.  
The third quarter showed some more fantastic movement and shooting from Holly Charmer (GA) and Sara Collister (GS). Simcocks defence Rachel Craig (GD) and Megan Howland (GK) worked tirelessly and got some great rebounds. Spaniards continued their defensive game across the court with some amazing interceptions from Laura Crocker (WA) to win the ball back. The third quarter ended 43-7 to Castletown Spaniards. In the final quarter Simcocks Green came out strong and with determination. Their defence worked well with Ashley Kelly (WD) turning the ball over and they had good movement in mid court. Castletown Spaniards had another amazing quarter showing some great game play across the court. The final score was Castletown Spaniards 53, Simcocks Green Eagles, 12. Player of the Match went to Holly Charmer. Which was very much deserved for her fantastic game play and shooting.
DIVISION 1
Ramsey Blacks, 35 v Panthers, 20
POTM Ariana Kerruish for Ramsey Blacks
With Ramsey Blacks looking to continue their winning start to the season, Panthers also started strong. With some great defensive pressure from Panthers GD Jess Edmonds & GK Kerry Walker a couple of Ramsey centre passes were turned over and converted into goals. A knock to Ramsey WA Nicole Pressley brought an early replacement, however Claire Pullen stepped up and helped to tighten the score line. Quarter time came to an end at 4-3 to the Panthers. 
Settling into the game a little more, with some great defence across the whole court, Ramsey pressure saw a few loose passes by Panthers in the second quarter, which were converted into Ramsey goals. Both teams continued fighting hard, with great shooting in both circles to bring a half time score of 11-9 to Ramsey.
Half time saw some changes for both teams who were hoping to make the difference in what was proving to be a tightly contested match. The Ramsey defence of Emily Craig, Amy Valiant and Colette Gambell worked hard to pick off loose balls, reach for interceptions and support the attack. However, the Panthers shooting circle of Jess Edmonds & Courtney Quinn, supported by WA Rachel Webb showed great resilience and continued to add goals to their tally. Leading into the final quarter, Ramsey stretch their lead to 20-15. 
Ramsey stepped up a gear in the final quarter, seeing many interceptions and some quick passing up court. GS Bryony Callow-Thomas and GA Ariana-Kerruish converted these opportunities that the defence had earned for them with great feeding into the circle by C Amber Pullen. Ramsey could really see the benefit of the weekly fitness training as the last quarter was won 15-5. A special mention must go to the defence of Panthers who fought hard until the final whistle. 
DIVISION 2
Manx Gems Corals, 22 v Suntera Global Ballasalla Gales, 25
POTM Trinity Hebden for Suntera Global Ballasalla Gales
The game started off strong with both sides eager to get the ball and send it down to their shooters ready to score. With equally good attacking and defence from either team it was a tight quarter but by the end Ballasalla Gales were leading 6-4.
In the second quarter Ballasalla started dominating the court as they opened the gap between them and Manx Gems even further. With some amazing interceptions from Trinity Hebden as well as accurate shooting from the Ballasalla shooters we saw the quarter end 14-8 to Ballasalla Gales.
In the third quarter we saw Manx Gems swap positions round in their team to close the gap and prevent Ballasalla from scoring more goals. With better communication between the Manx Gems team, we saw the gap close slightly, however with Ballasalla still being very consistent and fiery, they continued extending their lead on this quarter with a score of 20-14.
In the fourth and final quarter Manx Gems really upped their game as many of their centre court players managed to take advantage of the few mistakes Ballasalla were making with mishandling the ball and then using these to drive the ball down to their shooters, who with their consisting shooting managed to shrink the gap between them and Ballasalla. By the end of the game there were only three goals in it, but Ballasalla Gales had come out on top with a score of 25-22. And the player of the match went to Trinity Hebden which was well deserved as she was excellent at defending and successfully intercepted the ball on numerous occasions.
Pictured: Ramsey Blacks