Senior League Match Reports - 24 October 2021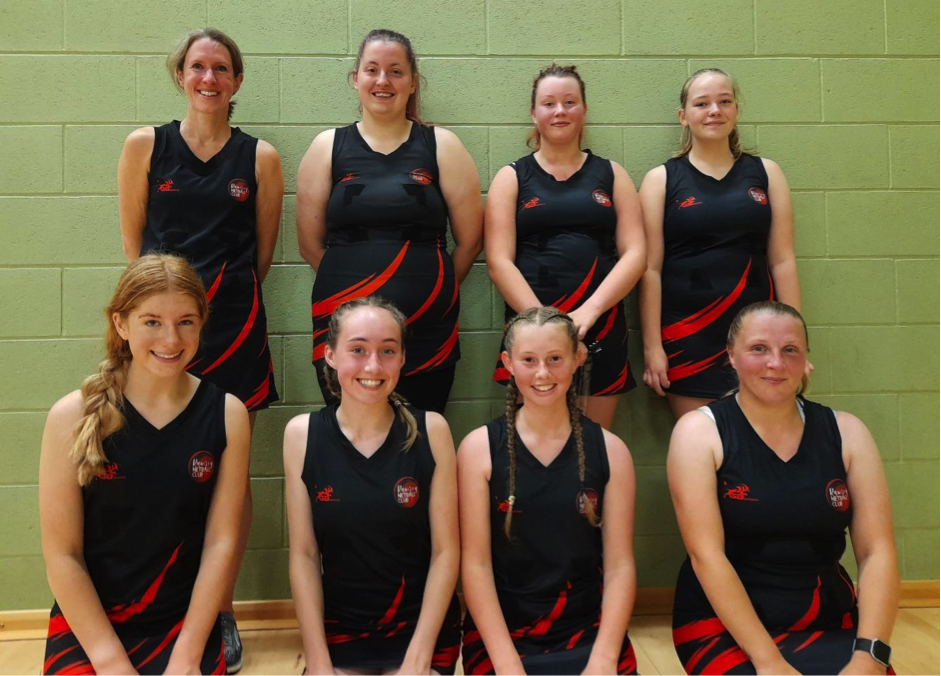 CHAMPIONSHIP
Simcocks Green Eagles 23 v Route 1 Turbos 49
POTM Lisa McMullin from Route 1 Turbos 
Despite not having their full roster of players, it was an impressive start from Route 1 Turbos who, having won the coin toss, worked hard right from the first whistle and taking advantage of Simcocks Green Eagles being down a player. The Route 1 defensive unit of Lisa McMullin (GD) and Holly Williamson (GK) worked hard to turn over the ball and were able to capitalise on a number of missed shooting opportunities by Simcocks, linking well with Katie Willson (WD) to deliver the ball to the Route 1 attackers. Route 1 Turbos were leading by 4 goals before Simcocks got their first goal but after this Simcocks soon settled and listened to advise and instruction from their bench. They soon got some more goals on the board thanks to the impressive shooting of Hannah Skehan (GA) and Emma Roberts (GS). Route 1, however, continued to utilise their extra player and applied defensive pressure to Simcocks throughout the mid-court. Route 1 ended the first quarter leading 13 goals to Simcocks 7. 
In the 2nd quarter Simcocks made some mid-court changes moving Rachel Craig into C and Sarah Cain to WA. The introduction of Craig at C had a good impact on their mid-court play and allowed them to move the ball more freely. Part way through this quarter Simcocks gained their 7th player in Holly Saxon who took to the court as WD which levelled the playing field and brought them up to a full squad. Excellent and accurate shooting continued in this quarter from Route 1's Ella Webster (GS) and Elena Reid (GA). However, they did not have an easy time in the circle as Simcocks defensive unit of Claire Parker (GK) and Ashley Skelly (GD) were tight on the Route 1 shooters and at times were able to get some rebounds and interceptions that their team capitalised on.
In the third quarter Route 1 made some changes and brought Olivia Quayle on at GK moving Holly Williamson to WD and Katie Willson to WA. Quayle, McMullin and Williamson worked well as a defensive unit and made numerous interceptions and turnover balls, which they safely delivered to their attackers. Strong forward drives from Willson and Kate Doran (C) meant that Turbos were able to feed their shooting circle well and that they could capitalise on the turnovers to increase their lead. 
The final quarter began 40-21 to Route 1, and Simcocks were keen to claim a point and did their best throughout this quarter to do this. However despite their efforts, Route 1 continued to work hard and pushed on in this quarter. Lisa McMullin (GD) showed great strength and made some impressive defensive interceptions which earned her a very well-deserved Player of the Match. The final score was 49-23 to Route 1 Turbos, denying Simcocks Green Eagles the point. 
DIVISION 2
Ramsey Reds 37 v Ramsey Scarlets 20
POTM Lisa Collister from Ramsey Reds
An eagerly anticipated Ramsey derby, this was always going to be a competitive match.
Reds settled well into the first quarter and built up an early lead, the young Scarlets took time to find their stride but eventually did. Some inaccurate passes lead to turnovers on both sides, the first quarter finished 10-4 to Reds.
In the second quarter Reds looked the more determined side, turning over centre passes and converting them. Reds Orla Goddard (WA) worked hard feeding the shooters who continued to consistently add goals to their tally. Scarlets defence Sarah Shaw (WD), Dixie Yardley-Scott (GD) and Caitlin McAleer (GK) made some vital interceptions but by half time the Reds had extended their lead to 19-7.
The third quarter saw Scarlets' shooters Sarah Nash (GS) and Lola Tebay (GA) find their groove and sink some excellent long range shots. Scarlets Matilde Jackson (C) battled well with Reds Lisa Collister (C) but Lisa's experience and strength proved instrumental in ensuring play was driven down court to attacker Charlotte Thompson (WA) and straight into the D. Heading into the final quarter Reds led by 29-13.
The final quarter was played goal for goal. Reds defence Claire Pullen (WD), Reese Dalduggan (GD) and Wilma Dalduggan (GK) faced pressure as Scarlets battled to close the gap. This resulted in the closest quarter of the match 8-7 to Reds.
The final result was a win to Ramsey Reds 37-20. A thoroughly deserved Player of the Match went to Reds Lisa Collister. 
Pictured: Ramsey Reds