Senior League Match Reports - 13 March 2022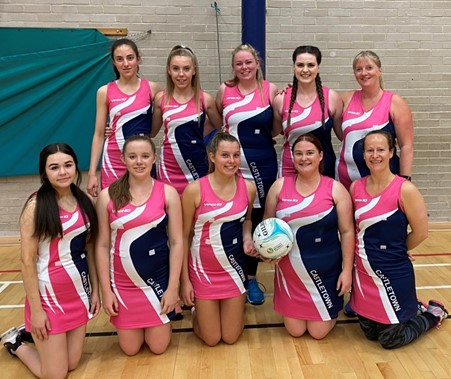 PREMIERSHIP 
Manx Gems Rubies, 16 v Simcocks Blue Eagles, 32
POTM Sophie Howland for Simocks Blue Eagles
Both teams started off strongly with the score going goal for goal, but the defensive work of Kenzie Pizzey gave Simcocks the lead in the first quarter despite the consistent shooting of Aailish Kelly and Katie Keenan. The first quarter ended with a 9-4 lead to Simcocks Blue.
Simcocks Blue started strongly in the second quarter too, with their experience playing together being shown, however Rubies continued to fight and capitalise on their turnovers with the work of Tori Leece and Kate Cashin in their defensive circle. Simcocks, however, kept their cool remained calm on the ball, with outstanding shooting from Poppy Clarke-Wilson and Ella Page leading the team to win the quarter 17-7.
The third quarter continued to demonstrate excellent play with Holly Hennessy and Sophie Howland both bringing the ball down the court well for their respective teams. Kitty Treanor supported the attacking unit well by offering great support on the circle edge and passing pin-point balls into her shooters for Manx Gems. Claire Mason, her counterpart, piled the pressure on for Simcocks Blue, with multiple turnovers for her team. Following a great battle from both sides, the quarter finished 25-12.
The final quarter was well fought for by Rubies, however, Simcocks were confidently keeping their lead especially with Ashleigh Baines working wonderfully in defence, most notably during the centre passes. At the other end of the court, Erin Keggen fought hard also to deny Rubies scoring opportunities. In the end, Simcocks Blue's well-trained defensive unit and their chemistry in attack won the game for them, despite Rubies' best efforts to deny shooting opportunities for Simcocks and their fantastic work to create their own opportunities. POTM went to Sophie Howland from Simcocks Blue.
CHAMPIONSHIP
Thompson Travel 2, 27 v Manx Gems Sapphires, 38
POTM Phoebe Jones for Manx Gems Sapphires
Thompson Travel 2 started well with Manx Gems Sapphires struggling to find their shooters in the first quarter. Thompson capitalised on Sapphires slow start and won the quarter 8-5. Sapphires were not to be deterred and came out strong in the 2nd quarter as they found their shooters more easily and the pressure was ramped up in defence, resulting in an excellent quarter for Sapphires who took the lead 18-13.
Changes were made by the Thompson team in the third quarter, with Natalie Christian moving to WA and Zoe Jones going to WD. This worked well in both attack and defence and saw a more evenly matched 3rd quarter with both teams putting in a performance. Unfortunately for Thompson, Sapphires were still ahead with a third quarter score of 26-20. Everything was still to play for in the final quarter with both teams coming out with intent, which saw some great turnovers from each side. Sapphires put their foot down, with some excellent shooting from GS, Alisha Fitzgerald and GA, Aailish Kelly who were ably assisted by WA, Phoebe Jones, a constant presence on the circle edge. Despite Thompson's best efforts they were unable to close the gap and Sapphires finished on top with a 38-29 lead. The Player of the Match deservedly went to Sapphires' WA, Phoebe Jones. 
DIVISION 1
Marbree Missfits C, 16 v Suntera Global Ballasalla Earthquakes, 31
POTM Stephanie Ward for Suntera Global Ballasalla Earthquakes
Ballasalla Earthquakes started the game very positively taking an early lead.  They forced a number of turnovers that Rebecca Hands and Jo Hicks were able to convert. The game then settled down a little and possession was shared between both teams with the centre court players finding their rhythm and bringing the ball up the court to their respective shooters. Earthquakes finished the quarter with a 4-point lead (9-5 Earthquakes).
Earthquakes continued to dominate during the 2nd quarter with Gemma Kermode, Megan Carey and Steph Ward working nicely with the shooters to create a number of opportunities.  Not to be out done the Missfits combination of Emma Riley and Tara Murphy linked well and were able to keep their score ticking over. At half time Earthquakes had increased their lead to 10 (19-9 Earthquakes).
Misfits made some tactical changes at the start of the 3rd quarter, bringing Rebekah Dalrumple out of the defending circle to WA where she was able to create further chances for her shooters connecting well with Emma Riley to feed the ball regularly into Abbie Kelsey and Tara Murphy.  Missfits changed their circle defence (Rachel Kentey and Abi Robson) and were able to break down a number of Earthquakes attacks which gave them the edge in the quarter.  Ballasalla finished the quarter with a 9-point lead. (25-16 Earthquakes)
In the final quarter Earthquakes circle defence (Gemma White and Clare Crowe) gave few opportunities for Missfits to score. They combined with the centre court players to feed high balls into Earthquakes Ciara Jackson who was able to keep adding to their score.  Earthquakes secured victory 31-16 with Misfits earning a well fought point.
DIVISION 2
Manx Gems Corals, 30 v Castletown Vikings, 23
POTM Ellie Treanor for Manx Gems Corals
Corals started the game on form and took an early 5 goal lead but Vikings soon found their feet with some sharp shooting from Amelie Hutchinson (GA) and Kirsty McConnell (GS). The two shooters worked well with Ciara Whelan (WA) and Sophie Bowers (C). However, Corals were on a roll and continued with their goal-scoring form. The quarter finished 12-6 to Corals.
A few positional changes for Vikings saw Olivia Cregeen (GK) and Sofia Douglas (C) take to the court. Both players made an impact for the team. Cregeen linked well with Michelle Blyth (GD) and they both turned over many balls. However, Corals had other ideas and with excellent shooting from Lucy Brown (GA) they continued with their lead. The score at halftime was 18-11 to Corals.
The third quarter saw the return to court for Issy Cutts (GD) and Abbie Gandy (WD) for Vikings, who provided much-needed mid-court support, especially on the centre passes. Hutchinson and McConnell swapped shooting positions and supported each other well in the shooting circle. This was a more even quarter in scoring terms with both teams bagging themselves 5 goals each with the score being 23-16 at quarter time.
The last quarter continued with goals being scored evenly between the two teams. Phoebe Roosen (GD) and Michelle Blyth (GK) worked hard in the Vikings circle in the last quarter, but Vikings couldn't do enough to make up for their slow start at the beginning of the game. Corals took the game with a final score of 30-23. POTM went to Ellie Treanor for Manx Gems Coral