Senior League Match Reports - 12 September 2021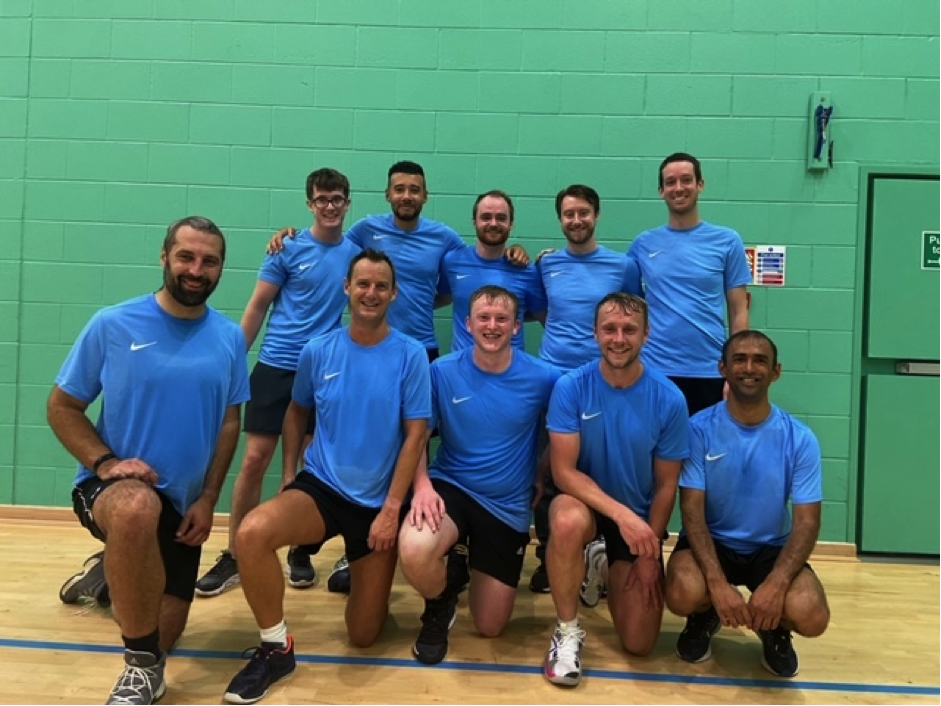 PREMIERSHIP
Route 1 Connection 34, v Manx Fellas 32
POTM Kat Keeling for Route 1 Connections
This was always going to be an exciting game.  With the first ever Isle of Man Netball all male netball team entering the league for the first time in history and playing their first fixture against the league runners up from last season.  The game did not disappoint!!
From the very first whistle the Fellas showed composure and control which resulted in a 3-goal streak for them, settling them nicely into the game.  With Co-Captains Rob Mason and Stephen Mulhern controlling the game tempo from the Centre and Goal Defence positions, the team continued to make good decisions, with Manx Fellas finding themselves with a lead after the first quarter. 
The Second quarter saw some great defensive work from Katrina Keeling who was constantly battling alongside her teammate Paige Skillicorn to counteract the height of the Fellas GS Michael Josem, who was very effective, but not without challenge. However, Fellas continued to put on their own defensive pressure resulting in some great mid court interceptions from Michael Lewis and Michael Pardoe.  Fellas managed to hold onto a 5-goal lead when the whistle blew for half time. 
Both teams made some changes, some tactical and some objective.  Both teams took to the changes well and the game continued to entertain the crowd that had gathered to watch the first male team playing in the Isle of Man Netball League.  Connections made the usual move of placing Kat Keeling into the shooting circle which creates extra height and strength in the attacking circle, but it was the movement of Kat with Eliana Kneen that opened chances closer to the post which the girls easily put up and started to close the gap on Fellas. 
The fourth quarter saw some more changes from Fellas, making sure all players got the much-needed court time they are looking for before competing in the UK next season as well as changes from Connections.  Connections, having played together last season, seemed to adapt to the changes quicker than Fellas and closed the gap and took the lead with only minutes to go to win the game.  The two teams will meet again in the second half of the season, and both will believe they can take the win.  This was a brilliant evenly matched game which will have got both teams thinking going into the second round of fixtures next week.
CHAMPIONSHIP
Simcocks Green Eagles 14, v Manx Gems Sapphires 26
POTM Tori Leece for Manx Gems Sapphires
Simcock's green started with the ball, but the play was swiftly turned around by Manx Gems Sapphires.  Gems scored the first goal of the match despite receiving strong pushback from Howland  (GK) and Skelly (GD). The first quarter ended with an 8-3 lead to Sapphires who came into the second quarter as strong as they ended the first.
Baines (C), Jones (WA), and Whalley (WD) fought hard to feed the ball into their attack. There were many interceptions from both teams particularly from Szetu(GA) AND Leece(GK). The second quarter ended 5-15 to Sapphires.
Simcocks came out with fire in the third quarter as Cowley (C ) and Craig (WD) used their skills to create turnovers and feed their attacking circle. They were met with strength from Hawkins (GD) and Leece who did their best to fight against this strong force. The final quarter began with 9-20 lead to the Sapphires. Simcocks shone in this quarter as Osbourne (GS) AND Skehan (GA) worked skilfully together to score more goals past the Sapphires defence, however, it wasn't enough to close the gap and the game finished 26-14 to Manx Gems Sapphires and Player of the Match going to Tori Leece, from Sapphires.
DIVISION 1
Suntera Global Ballasalla Drifts 37,  v Panthers 22
POTM Georgia Walton for Suntera Global Ballasalla Drifts
Suntera Ballasalla Drifts started strong in the first quarter with sound centre passes from Gemma Collister (C) and feeds into the shooting circle by Janet Lawrinson (WA) ensuring Ballasalla Drifts led by 3 goals.  
Ballasalla Drifts made a change bringing Freya Skillicorn on at (WA) in the second quarter. Panthers continued to work hard for the ball, but their shooting duo of Courtney Quinn (GA) and Dani Kelly (GS) were put under pressure by Ballasalla Drifts defence Gemma White (GK) and Georgia Walton (GD). The score at half time saw Ballasalla Drifts leading 14-9. 
A combination of continued strong play in defence particularly by Georgia Walton (GD) gaining some great interceptions, Steph Haslett (WD) working hard to restrict play, and Lucy Radcliffe (GA) and Ciara Jackson (GS) working well together in the circle ensured Ballasalla Drifts lead increased further in the third quarter to 26-14.  
Panthers fought on during the last quarter, but Ballasalla Drifts took a comfortable win of 37-22 with Player of the Match going to Georgia Walton for Ballasalla Drifts. 
DIVISION 2
Thompson 3 14 v Ramsey Scarlets 33
POTM Lola Tebay from Ramsey Scarlets
Although this was the first match in the IOM Netball senior league for most of the players in both teams, there was little evidence of any pre-match nerves when it got underway with the first centre to Ramsey Scarlets. Thompson Travel 3 Holly Roberts (GD) and Lydia Wylie (GK) made it difficult for Scarlets Shooters Lola Tebay (GA) and Erin Corkill (GS) and despite some great balls fed into the D by Lottie Stennet (WA), the quarter ended 6-5 to Thompson Travel 3.
Scarlets made changes to their line-up, bringing Sarah Nash on as GS, and moving Sarah Shaw to WA. Scarlet's attackers quickly started to add to their goals after several interceptions by their defensive pairing of Caitlin McAleer (GK) and DIxie Yarldey Scott (GD).
Unfortunately, Thompson Travel 3 were a player down and despite Jess Quigley (C) and Emily Kirkham (WA) working tirelessly to cover the space left by their missing WD, the score at half time was 12 - 8 to Ramsey Scarlets.
Thompson Travel 3 came out strongly after half time, applying great pressure in all areas of the court supported by great shooting from Zharah Hewlett (GS), especially when Izzy WIncester (GA) had to leave court briefly. At the end of third quarter, Scarlets had increased their lead to 18-11.
More changes were made by both teams, but Ramsey Scarlets proved too strong for the 6 players of Thompson Travel 3 and with Scarlets Matilde Jackson (C) continuing to make fantastic interceptions, Scarlets were able to convert their turnovers into goals, eventually winning the match 33 – 14 and Player of the Match going to Lola Tebay from Ramsey Scarlets.
Pictured: Manx Fellas