Santander International Senior League Match Reports 29th January 2023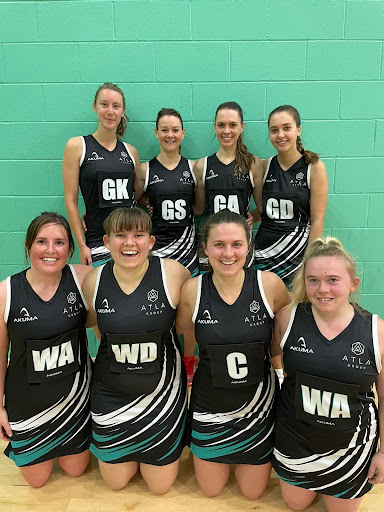 Premiership
Suntera Global Ballasalla Blizzards 20 v Simcocks Red Eagles 49
POTM Mackenzie Pizzey (Simcocks Red Eagles)
Games between Simcocks and Ballasalla are always well contested, and this game was no different. The game started goal for goal thanks to some stellar shooting from Chloe Swales (Simcocks GA) and Gemma Kirkham (Balla GS), but after a few defensive turnovers by Simcocks the first Q finished 16-5 to them. Looking to build on their lead, Simcocks started the second Q strong, and some nice play between Claire Mason (WA) and Rachel Johnstone (C) helped to bring the ball down the Simcocks shooting end, allowing them to build on their lead. Strong defence by Kenzie Pizzey (Simcocks GD) and Natalie Swales (Simcocks GK) continued to put pressure on Balla's attacking end. Q3 saw some changes for Balla with Mairi Harrison moving to GD and Becky Dunn to WD, both teamed up to reduce shooting options for Simcocks and try to block Aalish Harris out of the circle – this forced Simcocks to play more balls out of the circle and saw Ashley Hall (Balla C) take some good interceptions to turn the ball over for Balla, but with sharp shooting for Simcocks they ensured they continued to convert ball to goal, and the 3rd Q finished 37-16. During Q4 Hannah Leece (Simcocks WD) helped to provide a number of turnover opportunities which helped Simcocks to build on their lead with the game finishing 49-20. POTM Kenzie Pizzey (Simcocks GD).
Championship
Young Farmers 23 v Thompson 2 29
POTM Chloe Schofield (Thompson 2)
It was always going to be a close game between the experienced Thompson 2 team and the Young Farmers, with the latter missing a number of key players, including their on form GA Nicci Cain. However, it saw the welcome return of Alison King to the Farmers, dusting off her dress after a 2 year break from the netball court.
Thompson looked strong from the start with some excellent play in the shooting circle. Unfortunately, their Centre Karen Duncan hurt her back in the first quarter. She persevered and managed to continue to play, carefully, to the end of the match. Hopefully it's nothing serious.
Thompson continued to extend their lead in the second and third quarters, with Chloe Schofield and Emily Gaylor very accurate with their shooting. Young Farmers Centre Rachel Osborne made life tricky for Thompson with some great interceptions. She also linked up well with Emma Jones in attack, managing to get balls in to Alison King and Dani Kelly, past the Thompsons strong defence.
The Young Farmers made a change to their lineup in the final quarter. The combination of Hannah Moore and Alice Forster in the defence circle made life harder for Thompson. Young Farmers scored 10 goals, but Thompson stayed strong and held to a 6 goal advantage to take the win.
Division 1
Manx Gems Emeralds 55 v Suntera Global Ballasalla Earthquakes 12
POTM Dianne Cregeen - Manx Gems Emeralds
Emeralds dominated this game from the off. With some good set-plays down the court, they were able to find GS, Jill Festorazzi and GA, Di Cregeen, who were consistent with winning rebounds and and deceiving the defensive skills of Ballasalla's Gemma White (GK) and Alicia Kewley (GD). Score at the end of the first quarter, 11-3 in Emerald's favour.
With no positional changes by either side, going into the second quarter, Ballsalla found themselves, on occasion, breaking the line before the start of play. Emeralds were able to convert these opportunities, with mid-court players, Alex Wilson-Spratt (WD), Sarah Curphey (WA) and Dawn Quinn (C) bringing the ball through to the attacking circle. Ballasalla, did clawback 3 goals before half time with Rebecca Hands (GA) and Megan Steward (GS) working hard to get past some strong defending by Emerald's Sabrina Crowe (GK) and Jess Hawkins (GD). Half time score 20-6.
Going into the third quarter, Sarah Curphey and Dawn Quinn swapped to C and WA respectively, whilst the Ballasalla shooting duo also switched around. Unfortunately, these changes didn't bring around a change in fortune for Ballasalla in spite of some great perseverance by Centre, Janet Lawrinson and junior player, Eve Hall. With experience on their side, Emeralds continued to dominate. End of third quarter, 35-8.
Going into the final quarter, Ballasalla made a change to their defence, with Alicia Kewley swapping to WD and Charlotte Brooks into GD. These changes weren't enough to stop the flowing play of Emeralds who were patient feeding into their attacking circle and scoring 20 goals in the final quarter to Ballsalla's 4. Player of the Match was awarded to Di Cregeen for her impressive shooting. Final score 55-12.

Division 2
Manx Gems Corals 20 v Atla Group Panthers 26
POTM Ellie Treanor Manx Gems Corals
With only goal difference separating these two teams, both Atla Group Panthers and Manx Gems Corals had their game faces on for what was set to be a great game of netball. The first quarter lived up to expectations, both teams starting strong with consistent shooting and little turn overs. The first quarter finished 5-4 to Atla Group Panthers.
There were no changes for either team going into the second quarter. Atla Group Panthers opened the scoring, setting the tone for the rest of the quarter.
Panthers' defence were on top form, Jess Edmonds (GD) and Saffy Cregeen (GK) both getting some great interceptions and capitalising on Gems' mistakes. Atla's mid-court were too quick for Gems, Rachael Webb (WD), Sarah Vorster (C) and Rachel Edwards (WA) were quick paced, found plenty of space and accurately fed sharp shooters Kirsten McIntosh (GA) and Mandy Hunter (GS). After a few turnovers, Atla gained some strong momentum and came out on top. The halftime score was 14-7 to Atla Group Panthers.
Gems made some changes going into the second half, determined to get some goals back and that's exactly what they did. Ellie Treanor (C) and Poppy Brown (WA) worked tirelessly in Gems' attacking third to feed their shooters Emily Brown (GS) and Lucy Brown (GA) who both rarely missed from some incredible distances. A change in Gems' defence saw Tracey Gelling move to GD and Kirree Corkish in GK, this duo worked hard to get some turnovers to close the gap slightly. Third quarter finished 20-16 to Atla Group Panthers.
It was still all to play for in the final quarter with no real idea of which team was going to come out on top. Gems made a couple of changes, bringing on Abi Campbell in WD and swapping their GS/GA. The quarter started goal for goal and Gems quickly realised they needed to work harder to close that 4 goal gap. They used all of their efforts to drive the ball up the court which, unfortunately, saw various errors that Atla used to their advantage. The game finished 26-20 to Atla Group Panthers and player of the match was awarded to Ellie Treanor (Gems C).