Santander International Senior League Match Reports 19th February 2023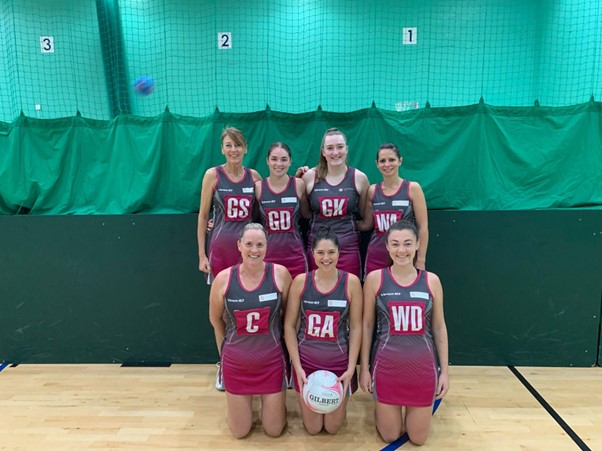 Premiership
Route One Connections, 20 v Suntera Global Ballasalla Avalanches,30
POTM - Sarah Long for Suntera Global Ballasalla Cyclones
The game started evenly matched with Ballasalla leading at the end of the first quarter by only two goals. Sarah Long came on strong in the second quarter and worked hard against the tireless defence of Cassy Pizzey. Ella Carridge and Zoe Kirkham continued to work well together in the defensive circle for Balla while Nicola Spencer and Becca Cooke rotated the shooting circle well for Route 1. Ballasalla extended their lead to 4 goals at half time.
Despite some fancy feet from Gemma Kirkham at GS, the third quarter was won by Route 1, the difference now only 3. In the final quarter Ballasalla came out firing, and continued to turn over the ball and winning the game 30-20, with POTM going to Suntera Globals Ballasalla Avalanches Sarah Long.

Championship
Suntera Global Ballasalla Cyclones, 27 v Castletown Celts,36
POTM - Holly Charmer for Castletown Celts
The match opened fairly evenly, with Castletown Celts ahead by three points.The first quarter demonstrated a strong performance by both teams. Ballasalla's GA,Nessa Farron and GS, Kath Kermode were both under pressure from Castletowns Celts defence GD Holly Charmer, GK, Ashley Skelly and WD Hayley Duffus but both ladies played amazingly well under the pressure.
The second quarter was fast paced,with both teams fighting hard. Both teams marked each other very well, getting some great interceptions. Ballasalla's GK Shrav Sivakumar and GD Janet Sayle worked super hard to defend Celts GS Kim Holland and GA Amelie Hutchinson who were shooting accurately.Half time came and Castletown Celts led by 18-13.
In the third quarter both teams continued to push forward, with some excellent play resulting in another fast quarter.The momentum was going with Ballasalla with them winning the quarter. This quarter saw the midcourt players for both teams working really hard with Castletowns Rebecca O'Neill(C) and Sophie Bowers (WA) putting the pressure on and Ballasalla making some key interceptions.
The last quarter saw Castletown really put on the pressure. A change in GK saw Erin Chapple take to the court for Celts after Ashley Skelly had to come off due to injury. Ballasalla Cyclones never stopped fighting though, with their WD, Ihona Bridges, WA, Georgia Walton and C, Stephanie Ward working well together to get the ball down the court. One goal from Castletown was disallowed due to Ballasalla pressure. Everyone continued to work hard and the last goal was scored which took the score to 36-27 with a pleased Castletwon Celts taking the game and also saw POTM go to their GD,Holly Charmer.
Division 2
Ramsey Scarletts, 25 v Manx Gems Corals,38
POTM - Lucy Brown for Manx Gems Corals
Both teams started the game quite evenly with goals at either end of the court, Elly-Jane Crellin (GA)and Erin Corkill (GS) hardly missed a shot for Ramsey. Corals lead 7-6 going into the second quarter with Ellie Treanor (C) and Emily Brown (WA) driving the ball through the mid court.
Ramsey were unable to stop the strong movement and excellent shooting from Corals Lucy Brown(GS) and Sienna Thatcher (GA)which saw Corals extend their lead to 18-10 at the end of the second quarter.
The third quarter saw Ramsey put together some good attacking moves through the court but Eliche Yordanora (WD) and Abi Campbell (GD) worked hard to close down and regain possession.Some great rebounds from Rachel Andrew (GK) saw Ramsey winning the quarter but Corals were still in the lead 24-19.
The fourth quarter saw Corals step up a gear with Poppy Brown (WD) strong in defence. The ball was down the court with some great fast passing and into the circle where the shooters both had their eye in, putting up shots from distance, easily taking the final quarter and winning the game 38-25. A well deserved player of the match to Lucy Brown for Corals. ManxGems would like to thank sponsors Island Tyres and Autocare for its support.