Santander International Senior League Match Reports 12th March 2023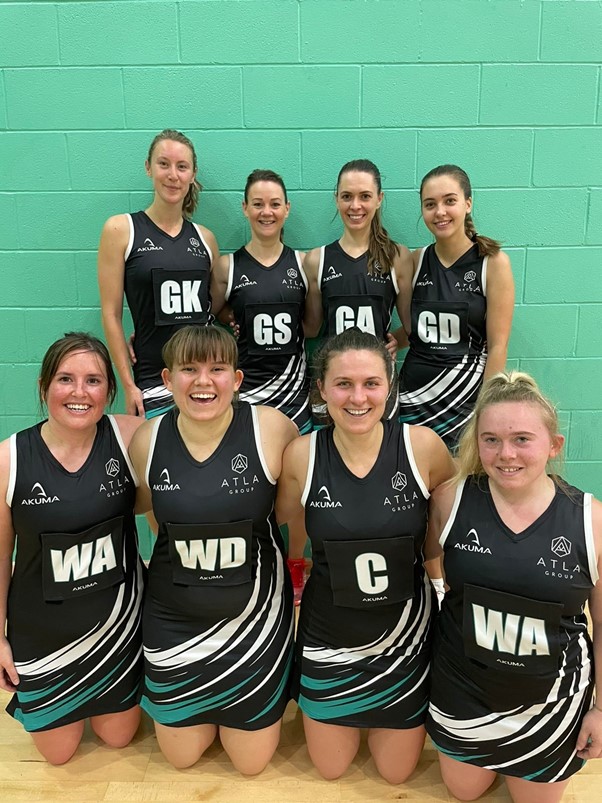 Premiership
Simcocks Blue Eagles,20 v Suntera Global Ballasalla Avalanches,40
POTM Mairi Harrison for Suntera Global Ballasalla Avalanches
It was a slightly different line up for both teams that took to court, most noticeable was that Simcocks Blue had some key players missing from their usual starting 7. The game got off to a fast start with the Sunterra Ballasalla attack of Jane Ryder-Clague (WA) and Mairi Harrison (C) working the ball around before feeding the shooters of Kate Williams (GA) and Kate Tebay (GS) who used their years of working together to read off each other and open up space in the circle. The Simcocks defence of Ellan Charmer (GK) and Lucy Faragher (GD) worked hard to maintain the pressure but the experience proved too much and Ballasalla ended the first quarter in the lead 9 - 5.
Simcocks made a few changes in the second quarter, showing the depth and versatility of their squad; Bayleigh Mitchell moving from WA to WD and Jess Christian coming on for her first game back after having a baby at GD slowed down the rhythm of Ballasalla. The Simcocks shooting duo of Ella Crowe and Aalish Kelly sinking some great long range shots. However, the Ballasalla defence of Zoe Kirkham and Ella Carridge didn't make things easy for them, holding them to the circle edge and delaying the pass into the circle which resulted in a few turnovers for Ballasalla and a half time score of 19-11 in their favour.
The third quarter started a little more settled initially for Simcocks, but the arrival of the Ballasalla's coach, Ashley Hall seemed to spur the team on and the girls stepped up and some lovely flowing netball was played down the court. Mairi Harrison and Clair Barks (WD) worked tirelessly in the defensive end to put pressure on every pass and the effort paid off with lots of turnovers being won. The experience of Claire Belcher-Smith in the Centre position for simcocks helped to control the play and there was some really nice netball played linking attack with defence. However, Ballasalla had definitely found their form and were able to stretch their lead to end the quarter 31-15.
The final quarter started with the same intensity as the first and the Ballsalla defence of Barks, Carridge and Kirkham (GK) made it increasingly difficult for the ball to find the Simcocks shooters. However, Simcocks refused to slow down. Their determination right until the final whistle ensured that they secured a very valuable 1 point for achieving half of Ballasalla's score with the game finishing 40-20 to Sunterra Ballasalla with Mairi Harrison earning a very well deserved player of the match.
Championship
Simcocks Gold Eagles, 38 v Castletown Spaniards,41
POTM Sara Collister for Castletown Spaniards
This was set to be a tough match for Castletown Spaniards as Simcocks Gold have been undefeated so far this season. With two players down due to injury, Spaniards were joined by some of their younger players. Castletown Spaniards started the match with the first centre pass which was quickly turned over by Simcocks Gold. The game continued close almost goal for goal but with some amazing defence from Holly Charmer and Bree McLaughlin the first quarter ended 9-7 to Spaniards.
The second quarter saw both teams come back onto the court strong. Mid court players Kerry Kelly and Amelie Hutchinson worked really well together to bring the ball through court, with Kerry sending some fantastic balls into her shooters. Ruth Kinnish playing WD put continuous pressure on Simcocks, gaining some lovely interceptions. Simcocks shooters Helena Allan and Aalish Kelly, had lovely movement in the circle and were scoring great goals and at half time the score was close at 17-19 to Spaniards.
At the beginning of the second half, Spaniards made a few changes for this quarter bringing Imogen Beech in as GD and Amy Potts on as WA. These two young players fit seamlessly into the team with Amy creating great space through the court and Immy putting the pressure on Simcocks GS. This game continued at a fast pace with Simcocks mid court players C - Ella Crowe, WA- Dionne Hall and WD Rachel Craig seemingly not tiring and continuing to keep the pressure on Castletown Spaniards throughout the court. Quarter three ended 26-31 to Spaniards.
Going into the last quarter and the score being so close both teams came out fighting. After some fantastic defence and interceptions from Simcocks GK, Megan Howland and GD, Lucy Faragher, Spaniards shooters Zoe Ludford-Brooks and Sara Collister were having to work hard. Zoe was able to pull balls in from the back line and gain possession from rebounds to score beautifully. Player of the Match, Spaniards GA Sara,had great movement in the circle and scored some fantastic long shots after being forced away from the post by Simcocks defence.
Although Simcocks fought hard and won the last quarter, Castletown Spaniards won the game by 3 goals, 41-38.

Division 1
Ramsey Blacks, 28 v Suntera Global Ballasalla Earthquakes,18
POTM Ariana Kerruish for Ramsey Blacks
League leaders Ramsey Black played Suntera Global Ballasalla Earthquakes in the end of season match. Bottom of the league Suntera Global Ballasalla Earthquakes knew this would be a tough match against this strong opposition and the fight of both teams shone through. Short sharp passing from Ramsey Black led to the first goal of the game. Despite some intercepts by Suntera Global Ballasalla Earthquakes's defence Gemma White at GK, Alicia Kewley at GD and Charlotte Brooks at WD, and a great long distance goal from Suntera Global Ballasalla Earthquakes's GA Caitlin Henery, it was not enough to stop Ramsey Black taking the lead at the end of the first quarter to 6:2.
Ramsey Black's fast pace continued into the second quarter with great interceptions from Ramsey Black's WA Nicole Presley. A strong quarter by both teams with each team scoring equal goals. The goal difference at half time meant Ramsey Black led by 4 goals.
Ramsey Black dominated the third quarter despite some smooth mid court play from Suntera Global Ballasalla Earthquakes's Janet Lawrinson at C linking with Rebecca hands at WA. Ramsey Black took the lead in the third quarter with some great shooting from Ramsey Black's GA, Ariannah Kerruish and Ellie Johnson GS gaining a further 4 goals ahead of Balla, ending the quarter 20:12 to Ramsey.
Quarter 4 continued at a fast pace with some great interceptions and turnover by Suntera Global Ballasalla Earthquakes in mid court to feed in to GS Megan Sheward working well with GA Caitlin Henery to score. A well deserved POTM for Ariannah Kerruish as Ramsey Black GA who led them to a 28:18 victory.

Division 2
Castletown Jets, 24 v Atla Group Panthers,27
POTM Saffy Cregeen for Atla Group Panthers
It was the final week of fixtures for the 22-23 season, and a fight for the top of the table spot between the Atla Group Panthers & Castletown Jets, who met for their third match this season at Bemahague. Ahead of the match, Jets were sitting at the top of the division 2 table with 38 points, and needed a draw or a win from today's match to retain their top spot and win the league.
Jets won the first centre and set the tone for the first quarter, converting both their own and Panthers first centre pass, taking them 2 goals clear within the first minute – but a nervous Panthers squad quickly settled in, with mid court balls picked up by Saffy Cregeen (GD) & Rachael Webb (WD) along with some epic shooting from Mandy Hunter (GS) and Jess Edmonds (GA), enabled Panthers to successfully convert 4 of the Jets centre passes to goals, however as they failed to convert their own, Jets were in the lead by 1 goal, with the scoreline finishing 4 - 5 to Jets at the end of the first quarter.
Ahead of the second quarter, a couple of changes in the mid court / defence saw both teams come out stronger and fighting for every ball. Despite the incredible reach of Kerry Walker (GK) it just wasn't enough to stop Bree Collister (C) and Callie Cubbon (WA) creating some really great opportunities and feeding the ball into Amy Potts (GA) & Ruby Watterson (GS), resulting in Jets taking the lead by 2 goals and finishing the first half of the match with a scoreline of 10 – 12 to Jets.
Following the half time break, and an epic pep talk from coach Michelle Kenna, Panthers made some further switches to mid-court, with Kirsten McKintosh (C), Lauren Murphy (WA) & Sarah Vorster (WD) all settling into new positions. Panthers finally found their rhythm and made a number of quality turnovers, bringing them neck and neck with Jets for the first time in the match! From here on, for the majority of the third quarter it was goal for goal, with both sides making life extremely difficult for the other team, but Panthers managed to take an ever-so-slight lead, with the score line finishing 19-18 to Panthers by the end of the 3rd quarter.
Going into the 4th & final quarter, Panthers & Jets had everything to play for, and neither side were going to give up without a fight! Panthers quickly took the lead by 3 goals, but the trio of defenders for Jets of Immi Beech (GK), Summer Sadler (GD) & Kate Potts (WD) along with Captain Mollie Zybert (WA) worked tirelessly and Jets quickly brought the scoreline back to even. With the last few minutes of the match to go, Panthers converted a Jets Centre, and from there secured the additional goals they so desperately needed to nudge ahead, with the final score finishing 27 – 24 to Panthers.
This really was a thrilling game to watch, with a number of spectators making it down, providing a great atmosphere for the final match! Both sides fought incredibly hard in what may well have been the most nail-biting game of the 22-23 division 2 season! Saffy Cregeen took home a very well-deserved player of the match, and Atla Group Panthers were crowned Division 2 winners, even though they finish the season equal on points with Castletown Jets (both sides racked up a total of 39 points), but Panthers nudged the win on Goal Difference (ending the season +13 overall).
Thank you to all the Umpires, Scorers, Organisers and everyone else involved in making Sunday league happen!