Santander International Senior League Match Reports - 8 January 2023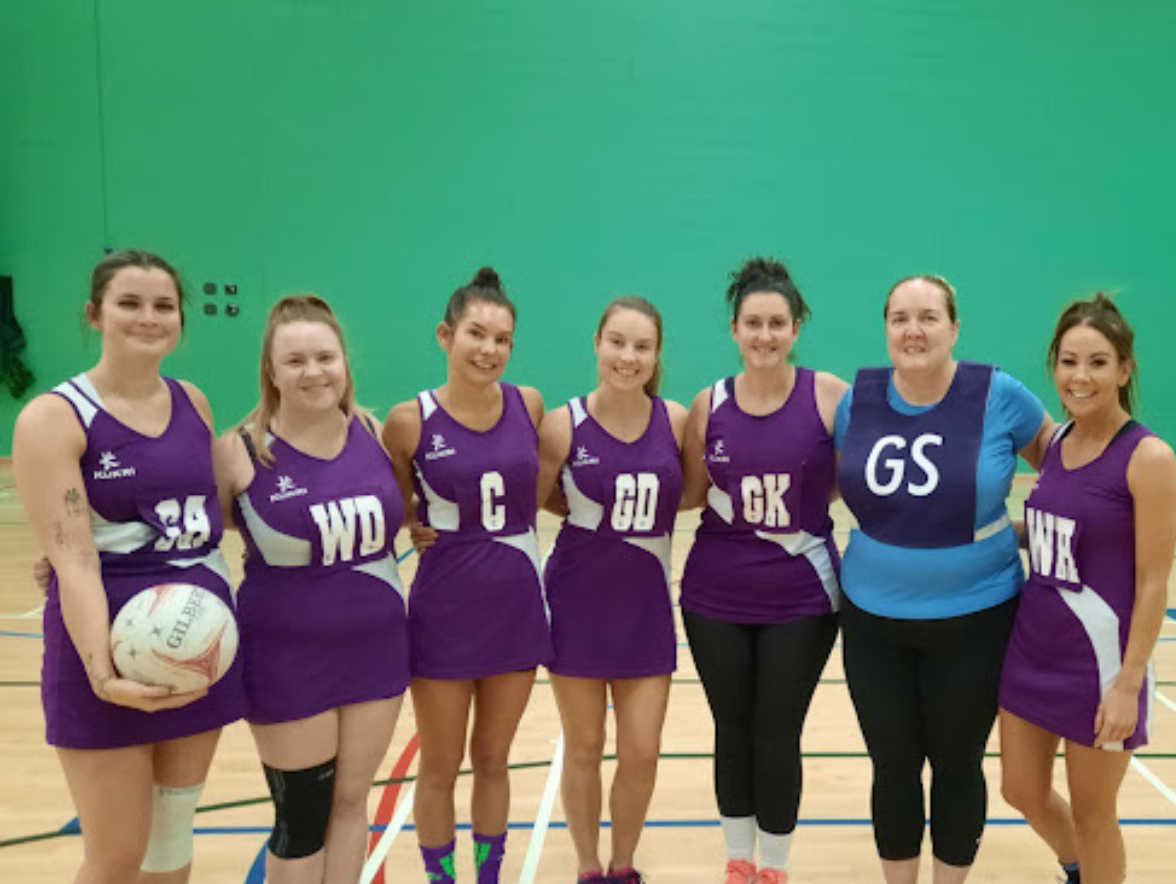 Championship
Route One Turbos, 38  v Thompson 2, 12
POTM: Cassidy Pizzey for Route One Turbos
This match saw Route 1 Turbos and Thompson 2 facing up to each other sooner than both teams had expected, with their previous meeting only being the final game before the Christmas break. 
Route 1 got off to a strong start and quickly scored a succession of early goals. Cassidy Pizzey (C) and Alice Willoughby (WA) linked well to ensure the ball was delivered to the shooting circle. Imogen Cook at WD applied pressure in the mid-court to the young Thompson attack. The first quarter ended with Turbos leading 11-2.
The 2nd quarter saw Becky Lamb taking to the court as WA who, against the strong mid-court defence of Charlotte Geldart (WD), worked well with Pizzey and worked tirelessly to ensure that she was free for centre passes. The 2nd quarter saw Route 1 extend their lead to 21-6. 
The 3rd Quarter saw Alice Willoughby returning to the court at WD where she continued to add to the defensive pressure already applied by Lisa McMullin and Freya Skillicorn. McMullin and Skillicorn paired well throughout the game and complemented each other greatly in the circle earning themselves many tips and turnovers that were converted to goals by their teammates at the other end of the court. The 3rd quarter ended 26-10. 
Route 1 continued to dominate in the final quarter and play flowed as they appeared to move the ball seamlessly down the court from their defence into their attack. Route 1's shooting duo of Kate Doran (GA) and Elena Reid (GS) continued to find the net, but this was not without defensive pressure from Thompson's Hannah Clague (GD) and Rochelle Boyd (GK) who got many an interception, resulting in a turned ball for Thompson. Unfortunately, Thompson were not able to capitalise on these turnovers as they struggled to convert to goal. The final score was 38-12 to Route 1 Turbos, and player of the match was awarded to the very deserving Cassidy Pizzey. 

Simcocks Gold Eagles, 35  v Castletown Celts,16
POTM: Lizzy Power for Simcocks Gold Eagles
Having just played each other before Christmas and with Simcocks taking the win with an impressive performance, Castletown certainly felt that they had something to prove this time around.
Simcocks won the first C pass and Castletown turned the ball over,  getting the first goal on the board and both teams seemed to settle into the game quickly. However, Simcocks shooting partnership of Helena Allen and Ailish Kelly started the morning confidently, consequently taking the lead in the first quarter 8 goals to 3.
A change in Castletowns lineup saw Bree Collister take the C position, for her first time playing in the Championship and Vicki Corrin go to WA and this change certainly seemed to work in Castletowns favour as both teams had a lower scoring quarter due to the defensive pressure put on by both sides.
The first half ended with Simcocks maintaining their lead  by 15-7.
With changes on both sides,Simcocks definitely came out fighting. Simcocks GK, Megan Howland and GD, Lizzy Power were certainly making it hard work for Castletowns shooters and with them capitalising on Castletown's simple errors at times, it saw them take a greater lead and finish the third quarter 25-10.
The last quarter carried on going from strength to strength for Simcocks and even with some great turnovers and pressure from Castletown's defensive duo of Ashley SKelly and Holly Charmer, the score ended 35-16 to SImcocks with POTM deservedly going to their GD, Lizzy Power.