Santander International Match Reports 19th March 2023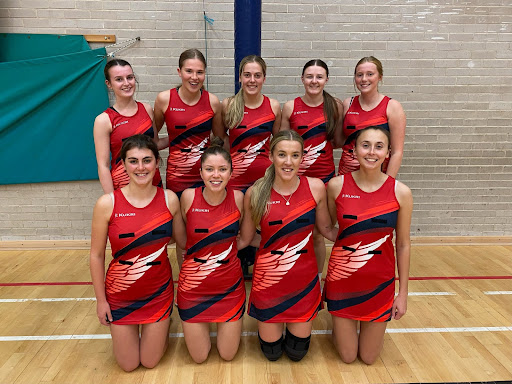 Premiership
Thompson 1,32 v Atla Group Pumas,26
POTM Emily Rawlins for Thompson 1
Atla Group Pumas were quick out of the blocks in this must win match. With Caroline Maddrell turning over the first centre, giving Hazel Bailey the chance to Pumas ahead from the off.
With no changes to either team going into the second quarter, every player gave their all, in a well contested quarter. Atla Pumas defence worked tirelessly to turn the ball over but the Thompson shooters were starting to find the net, making the most of every opportunity to score. It was end to end and with a draw for the quarter, it still left Atla Pumas ahead by 4 at the end of the half.
Georgie Harding had really found her stride by the 3rd quarter and was effortlessly scoring every shot despite Puma's strong defence, following Breesha Harkin coming on as GK as Ashley Shimmin was forced to the bench after turning awkwardly competing for a rebound. With changes made to the line up, Mandy Hunter went to GS for Atla. A few defensive turnovers by Emily Rawlinson and Molly Christian for Thompson saw them push ahead and then take the lead for the first time in the match, ending the 3rd quarter 23-20.
With everything to play for, the final quarter was played at a frantic pace! Unfortunately Atla's flow of the game which they had found, was disrupted due to the injury and they struggled to come back from it and then couldn't keep up with Thompsons scoring, which was being made easier due to Madiie Butterworth (C) and Mika Chen ( WD) working the ball well through mid court, making fantastic passes up to Ella Clague who consistently fed the ball into their shooters. Georgia (GS) and Fern's (GA) shooting was fabulous to watch, both rarely missing the net. Despite Pumas best efforts, Thompson extended their lead by three more goals, ending with 32-26 to Thompson 1. Player of the match went to Emily Rawlins (GD) for Thomspon 1.
Championship
Congratulations to Simcocks Gold who won their match beating Suntera Global Ballasalla Cyclones 37-17 and ultimately winning the Championship league with still another game left to play of the season.
Under 13's Division 1.
Simcocks Sea Eagles v Ramsey Flames
POTM Imogen Howard for Ramsey Flames Yasmin Hawley for Simcocks Sea Eagles
This was a bottom of the table clash with neither team having a win yet, so both teams were hungry for that first win.Simcocks Eagles started strong with Aela Mosley and Sophie Boyle getting vital tips and interceptions despite the hard work of Lily Groves. Simcocks finished the first quarter up by 2 goals. The second quarter saw Ramsey Flames working really had up the court. Imogen Howard made things very difficult for the Simcocks girls working hard for her Ramsey defence. Yasmin Hawley in the mid court for Simcocks worked tirelessly for her team picking up all loose balls and getting vital interceptions, the link between her and Florence Hestleton in the Simcocks attacking end was impressive but Ramsey's Amelia Collister and Georgia Thomson kept the pressure on making it hard for the Simcocks girls to break through. Daisy Quine has a great game for Simcock chasing down the ball and Lilly Boyle played really well partnering up with Heselton. Etta Granger and Claudia Gaskell worked really hard in the 3rd quarter for a Simcocks but Grayse Blencoe kept the pressure on linking well with Evelyn King. The last quarter saw a big push from the Ramsey girls despite the hard work from Simcocks they couldn't seem to find the goal and Ramsey capitalised on this and took the last goal of the game just minutes before time winning the game by 1, goal. What a great game for both sides, the game was great to see with both team working hard together. Player of the Match for Ramsey Flames was Imogen Howard and Player of the Match for Simcocks Sea Eagle's was Yasmin Hawley