Junior league Match Reports 26th February 2023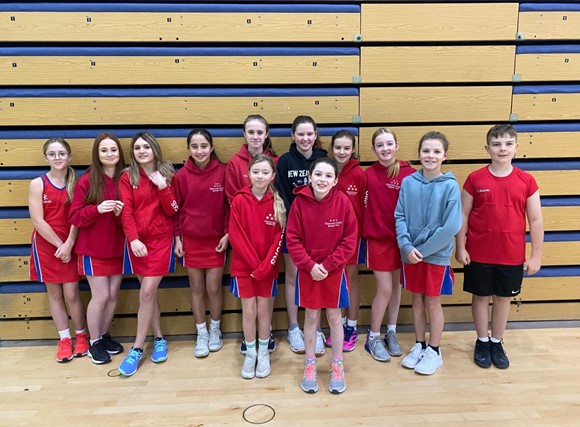 Under 15's Division 1
Simcocks Silver Eagles 17  v Route One Sparks 9
From the first whistle, it was clear that both Simcocks and Route One were clear they wanted the win – pressure throughout the court from both teams helped to prevent either team getting goal scoring opportunities during Q1 which finished 2-1 to Simcocks.
 Both teams made a change to their mid court, which saw the entry of Isla Grainger (Simcocks) and Izzy Burns (Route One) to the C position, these changes proved successful, and both girls helped to create a number of attacking openings to bring the ball down the court. Good shooting from Umata Pugova & Breesha Jenkins (Simcocks) was matched by Poppy Bregazzi & Iselin Keeling (Route One), seeing Q2 end 6-5 to Simcocks.
During Q3 Simcocks were able to work the ball through to attack, giving MacieBelle Kneen & Lily Kemp (Route One) lots to do to stop shooting opportunities – whilst they gained a number of rebounds and turnovers, Simcocks grew their lead with Q3 ended 11-8.
 It was great to see Robyn Hall (Route One) playing up from U13s – she was a key player for Route One for the 3 Q's she was on. In Q4 Simcocks seemed to find another gear and stepped up their intensity so turnover a handful of Route One centre's, Isla Grainger was also key in the Simcocks defence end during Q4 in turning the ball over with the final score finishing 17-9.
 POTM Isla Grainger (Simcocks) & MacieBelle Kneen (Route One).
Under 15's Division 1
Ramsey Crimson 14  v Simcocks Silver Eagles 14
The match started well for Ramsey Crimson who scored the first goal after turning over Simcock's center pass. As Simcocks Silver Eagles were 2 players down, they had to work tirelessly to keep the game under control and great interceptions from their Goal Defence Hannah Karen helped them to do this until their missing players arrived.  Good teamwork between the Ramsey shooters, Lily Walker and  Alice Crellin resulted in the game being 3 - 1 to Ramsey at the end of Q1.
The Ramsey team came out strongly at the beginning of Q2 with great marking in all areas putting pressure on the Simcock centre passes.   Ella Cain, Simcocks Centre, made some great interceptions and  Holly O'Donnell, Ramsey Wing Defence, helped her team by making great space to bring the ball up court.   At the end of the second quarter the score was 7 - 4 to Ramsey.
At the start of the third quarter two great interceptions from Simcocks Wing Attack Grace Taylor led to goals for Simcocks and by the end of the third quarter the score was 11-8 to Ramsey.
With everything to play for, Simcocks came out strongly in the final quarter,  two quick turnovers followed by strong work in all areas of the court resulted in them pulling the score back to 14-14 at the end of the match.
POTM Alice Crellin (Ramsey Crimsons) Ella Cain (Simcocks Silver Eagles)
Under 15's Division 2
Manx Gems Jades 7  v Simcocks Black Eagles 18
 Manx Gems knew this was going to be a tough game to win but they won the coin toss and got the game underway with the first centre pass. Simcocks took control of the game and the lead in the first quarter but Gems didn't give up and started making it hard for Simcocks to get the ball down the court. It was 6-1 to Simcocks at the start of the second quarter and with a couple of changes for Gems they saw the ball moving through mid court to their shooters Aalin Lyon and Darcy Syme.
Simcocks were making it difficult for Gems as they were sticking hard to their opponents but Jess Reay and Ffinlo Thomas in defence were strong making them have to think about their movement and passes, 12-3 to Simcocks going into half time.
The third quarter and Gabe Campbell and Illiam Thomas moved the ball quickly for Gems and with some nice shots from Erin Morgan Gems won the quarter but Simcocks were still leading 13-7. Fourth quarter and Gems just couldn't get the ball through court to their shooters and although defence was strong for Gems with some great play from Seren Kirkpatrick, Simcocks managed to find the net and keep the lead finishing 18-7 to them.
Both teams worked incredibly hard throughout the game with some great shooting from Lola Hornby-Wheeler who was player of the match for Simcocks and some excellent intercepts for Ffinlo Thomas who was player of the match for Gems. Manx Gems would like to thank sponsors Island Tyres and Autocare for its support.
Under 13's Division 2
 Castletown Comets 5  v Route One Atoms 17
 It was a tough match for Comets this morning with 3 of their usual team unavailable this week. Heni and Faith who play in the Galaxies team stepped up to fill in the gap. Emily F stepped in at GS to plug that gap also. Comets got off to a good start and worked well. Tilly and Connie made many interceptions limiting Route one's attack. Faith settled in at C and worked well to feed the attack. Sienna worked really hard against her tall opponent. Quarter 1 ended 2-1 to Route One.
 A switch around by Route One and changes to the Comets line up made a big difference. Neve M stepped in at C, Madi switched to WD and Heni came on at WA. However, the Route One GA Iselin was unstoppable and the team got into a good routine of feeding her well. Comets worked really hard to bring the ball through to the circle but the Route one defence was too strong. The score at quarter end was 10-1.
 For the 3rd quarter, Comets switched back to their usual positions and the attack settled in nicely. Sienna worked hard to get around her tall player and to get to the post. Emily worked well to feed Sienna in the circle. Faith worked hard as the Route One centre Robyn was involved in a lot of play. Tilly and Neve K worked really well in defence and disrupted many chances at goal from Route one. Comets won this quarter 3-2 and the score at the end of this quarter was 12-4.
 For the last quarter, Route one switched the GA back to the same as in quarter 2. Neve K, Neve M, and Tilly disrupted many of the feeds into the GA and GS to keep Route one only scoring 5 goals this quarter. Madi, Heni and Sienna worked hard to bring the ball through the court to the circle but in the end the height of Route one players and missing key players for Comets meant Route one came away with the win.
 The girls worked really hard and never gave up which is all we can ask for. Onwards and upwards for Comets future games