Junior League Match Reports - 6 March 2022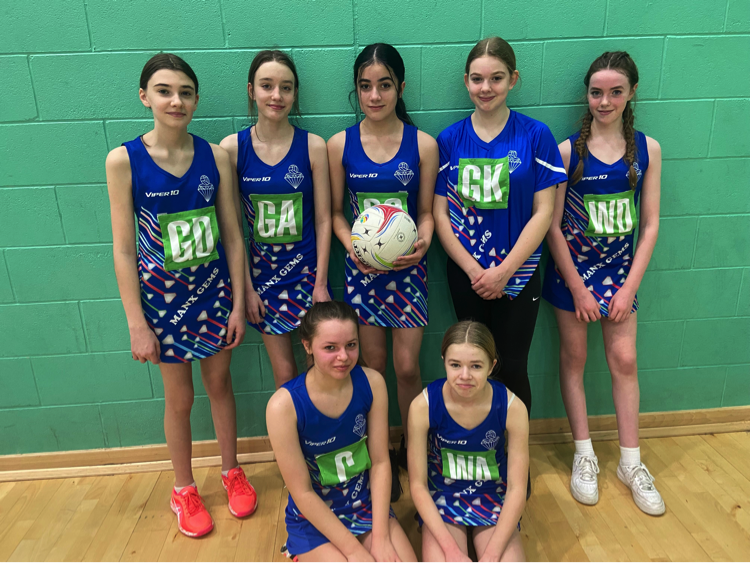 UNDER 15's DIVISION 1
Thompson Tigers, 12   v Castletown Jets, 31
Both teams started the game evenly matched with a few interceptions from both sides. The first goal took a few minutes to secure after Tiger's centre took the first centre pass. Strong circle defence from both teams meant that there was a struggle to get the ball securely to the shooters. After a while, both teams began to settle and Jet's shooters were able to score 7 goals. Tiger's circle defence put a lot of pressure on, forcing a lot of errors within the circle.  The first half ended 20 - 9 to Castletown.
Jets came out strong in the second quarter with an interception by Jet's centre on the first centre pass. This was rewarded with a strong passage of play by their WA in order for Jet's first goal of this quarter to be secured. Tigers responded to this with an interception on the next centre pass with a quick and strong performance between their attacking players. The first half ended 20 - 9 to Castletown.
Tigers really settled in to their game play in the second half of this match. Their attacking players worked hard with support from defence to consistently bring the ball down the court. Thanks to accurate shooting from their GS, Tigers had their highest scoring quarter. Jet's defensive duo worked well together to secure any rebounds and this quarter was filled with interceptions from both teams.
Both teams dug deep in the final quarter and went goal for goal for the first few minutes. Jets made good use of their WA/C on the circle edge to make sure their shooters were confident in their shots.
The game finished 31 – 12 to Castletown Jets.
UNDER 13's DIVISION 1
Simcocks Red Tails, 12  v Manx Gems Amethysts, 10
The teams took to the court and unfortunately for Manx Gems they had to start the game with 5 players, due to some going to the wrong venue.  They were soon to turn up and take to the court and challenge the Simcocks Red Eagles to a fantastic game.  The first quarter was end to end with Emi Lovett playing really well and making great interceptions for her team, but this was met with the same determination from Ealee Cubbon who was also working very hard in the mid court for the Simcocks girls.  The first quarter ended 2-2. 
The second quarter saw Manx Gems put even more pressure on the Simcocks girls with Georgia Halsall and Zaharah Corkill working well together in their circle and putting some lovely shots up, Ealee Cubbon who had moved to GD and Marchzela Cubbon who had also moved into the defending circle, making things every difficult for the Gems girls. They did not let this stop them, again this quarter was end to end and Manx gems took the game by 1 goal with Simcocks only scoring 2. 
The 3rd quarter saw Simcocks , made some changes, Aalish Watterson took to the shooting circle and moved well with Lola Hornby-Wheeler helping shoot some vital shots and increase their lead.  Marczhela and Ealee switched in the circle and this seemed to work really well for the Simcocks Girls Marczhela taking interceptions all down the court and working well with the other players in her team.  Mia Hewitt and Neve McNaught also worked well down the court and unfortunately for the Gems girls they did not seem to have the answer and Simcocks stormed ahead finishing the quarter 6-10.
The last quarter saw Gems step up a gear and put Simcocks under more pressure, shooting more accurately and working well together Emi Lovett and Erin Bell helping the attack on the Simcocks defence, the game went to 1 goal but Lola Hornby-Wheeler was not giving up, she fought for each ball and sank the last shot of the game with ease.  Finishing for a win for the Simcocks girls 12-10.  Players of the Match was Marchzela Cubbon for Simcocks and Emi Lovett for Manx Gems Amethysts.
UNDER 13's DIVISION 2
Manx Gems Jades, 15 v Ramsey Twilights, 0
The game started steadily with both young teams looking to secure a much sought-after win.  Jades were quicker off the mark with great work by their GS Kimberley Baker and GA Darcey Syme resulting in the quarter ending 3 - 0 to Jades.
Jades picked up the pace in Q2 which Ramsey matched but a number of amazing interceptions by Jades C Gabe Campbell led to turn overs and in spite of excellent work by Ramsey GD Georgia Thompson and GK Lucy Harvey, the score at the end of the quarter was 8 - 0 to Jades.
Ramsey made changes at half time moving Kyla Wheeler to centre.  Kyla linked well with Ramsey WA Amelia Collister and GD Rosemary Pearce to slow Jades' progress and the quarter ended 12 - 0.
The final quarter was end to end action with jades looking to increase their lead and Ramsey wanting to score a couple of goals.  Despite the best efforts of their GA Evelyn King and GS Lily Groves, Ramsey were unable to get the ball through the hoop and the match ended 15 - 0 to Manx Gems Jades.
The game was played in great spirit by both teams and it was lovely to see the young players enjoying match play. 
Players of the Match - Gabe Campbell (Manx Gems Jades) Amelia Collister) Ramsey Twilights
Pictured: Under 13's Division 1 - Manx Gems Amethysts