Junior League Match Reports - 30 January 2022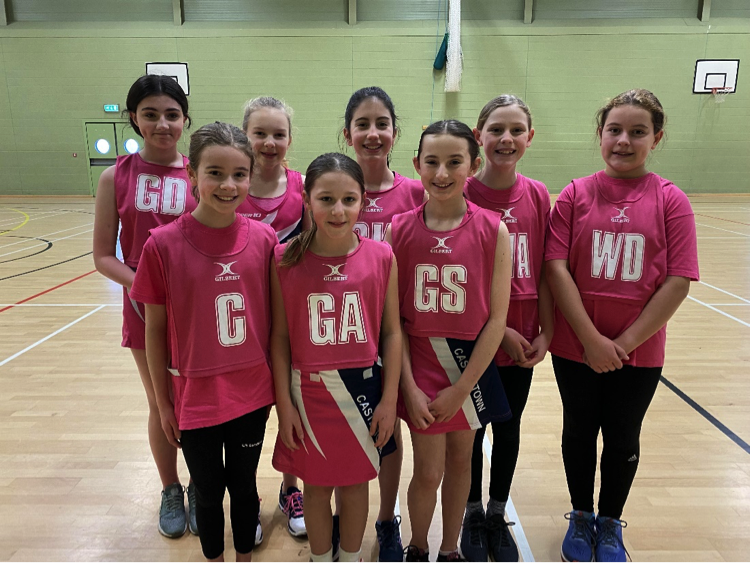 UNDER 15's DIVISION 1
Castletown Jets, 49 v Ramsey Crimson, 8
Ramsey won the toss with the first centre pass being taken by Jasmin Pullen. A strong start from Castletown saw a flurry of goals and although Ramsey's defence worked hard, Jets GA, Amelie Hutchinson and GS, Amy Potts racked up and impressive 12 goals to Crimson's 3.  Sadly, in the final seconds of the first quarter, Ramsey's Abigail Harvey, GD was injured and that was her game over.
The second quarter started with Ramsey now down to six players and the majority of play being dominated by Castletown. Lucy Field put up a valiant effort for Ramsey defending the circle but could not hold back a torrent of attacks from Castletown and the half time score was 4 - 27.
A switch around for Ramsey in the third quarter and they came out fighting, possession being much more equal in this quarter. Great pressure from Ramsey's centre court saw some excellent interceptions and they managed to slow the Jets pace a little.
The fourth quarter saw both teams fight to the end but an extra player for Castletown and some very slick play by them meant they couldn't be touched today.
Players of the match were Winnie Davies for Ramsey and Amelie Hutchinson for Castletown. 
UNDER 15's DIVISION 2
Suntera Global Ballasalla 2, 9 v Ramsey Midnights, 2
The first half of this game belonged to the defenders. Saoirse Hodson and Maya Helfrich worked hard for Ballasalla to stop their opponent's momentum. Whereas Ramsey mid-courters, Molly Philips and Neve Madden were successful in taking the ball from Ballasalla as it came through the court. This resulted in a form of stalemate and the first goal was only scored around the seven- minute mark. Ballasalla were able to pop two goals in before the whistle for quarter time.
The second quarter went the opposite way with the only goals coming from Ramsey who scored three. Both teams settled in the third quarter. Ramsey shooters, Isobel Callow and Lilly Walsh, found their rhythm. Ballasalla were also able to get more opportunities with lots of the play going through Ella Winstanley in attack. The score was level going into the final quarter and Ramsey took a slight lead but Ballasalla were able to fight back and with only a few seconds remaining, Ella Winstanley remained cool as a cucumber and scored for Ballasalla to level the game at nine all.
Players of the Match went to Ballasalla Wing Defence, Maya Helfich, and Ramsey Centre, Molly Philips.  
UNDER 13's DIVISION 1
Castletown Rockets, 17 v Manx Gems Amethysts, 3
With both teams experiencing a less than ideal start, with Rockets down a player due to covid so a late addition to the line-up and Gems down a player for most of the first quarter, the game could have gone either way.
Rockets took the first centre pass and were able to start the quarter off well with an early goal. Throughout most of the first quarter Rockets took advantage of their free player and were able to move ahead to a comfortable end of quarter score of 7-0.
Now 7 players a side, the second quarter started well for Rockets with 2 straight goals but excellent work by Gems stopped them in their streak. Some excellent use of the court by both teams was nice to see with everyone making their opponent work very hard. Gems GS Allesia made their first goal with an excellent shot which was quickly followed by Sydney  in the Rockets shooting circle. Towards the end of the quarter the Rockets GS June made an edge of circle shot (still not sure how that went in!) and Gems came straight back with their second goal by GA Georgia. The score line was 13-2 at half time.
The 3rd quarter started with another quick goal from Rockets, but Gems really started to fight back. Both teams showed their grit in this quarter with stray balls always being fought for. Rockets had to be patient to try and break through the strong Gems defence. Some great interceptions by the Rockets defensive team of Cleo and Libby were equally matched by the Gems defence of Emi and Lily. Gems really started to gel towards the end of the third quarter with the score at this point being 16-2.
The final quarter was much more evenly matched. The first goal of the quarter came for the Gems after working well throughout their mid court players of Erin K, Erin B and Isla. The defence shown in this final quarter by both teams was brilliant with interceptions coming in all over the court. The ball was moving well from end to end with neither team being able to add to their score line. The Rockets mid court players of Keira, Sofia and Lucy worked tirelessly to try and convert the ball back to their shooting end as quickly as possible. The final goal of the match came from June on the Rockets team who made some amazing shots throughout the whole game which were met by gasps from the spectators. With only 1 goal apiece in this final quarter, which shows how hard Gems fought to stay in the game, the score ended 17-3.
This was a great game to watch with all the girls enjoying their netball and fighting right to the end. Very well-deserved players of the match went to June for Rockets and Isla for Gems.
UNDER 13's DIVISION 2
Thompson Cubs, 10 v Route 1 Amps, 10
Route 1 took their first centre well and subsequently scored in the first few minutes of the game. Thompson Cubs soon equalised though and some great centre court action from Cubs saw them take a 2-1 lead. Thompson continued with some great play around the attacking circle edge which saw them net another goal making the final score after the first quarter 3-1 to Thompson.
Route 1 displayed some outstanding defence within the circle during the second quarter with many interceptions that made it difficult for Thompson to score. However, this didn't stop the C, WA and GD move the ball effortlessly in Thompsons down the court and into their attacking circle allowing them to stretch their lead by a couple of goals. Route 1 continued to work hard defending left, right and centre and managed to find their shooters who also scored an additional two goals. Thompson led 5 – 3 at the end of this quarter.
This was a thrilling quarter to watch as the two teams battled on court goal for goal! Attacking play from Route 1 and some excellent vision from their C saw a pass to their GS who scored an outstanding goal from the edge of the circle! Thompson continued their fantastic accurate passing down the court with tight marking and interruption of Route 1's play. Thompson again took the lead this quarter 7-6.
It was all to play for in the last quarter and both teams displayed a wonderful display of netball for the spectators! Route 1 displayed their resilience to come back and get a draw with a Thompson team that were a force to be reckoned with! The final score was 10-10, a deserving one for both teams with the amount of effort they both put into the game.
POTM Route 1 Lily Rose and for Thompson Cubs Amelia Geldart 
Pictured Castletown Comets had a busy weekend playing two games this Sunday
Castletown Comets 10 v Manx Gems Jades 5 POTM's Lexi Fargher and Gabe Cambell
Castletown Comets 3 v Thompson Cubs 14 POTM's Sienna Brookfield and Eve Steriopulos