Isle of Man Netball hosts mega international weekend of netball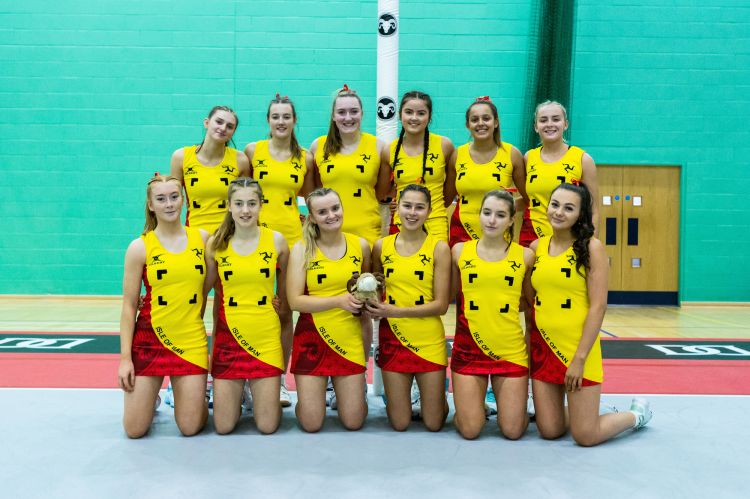 England Netball wins the U21 Championship and Wales win the Test Series against the Isle of Man
Isle of Man hosted the Europe Netball U21 Championship as well as a 3 match test series between Isle of Man and Wales (senior).
In the Championship held at the NSC in front of a fantastic crowd including visiting spectators, the Isle of Man U21 squad competed against England U21, Wales U21, and Northern Ireland U21. The results were as follows:
Isle of Man U21 v England U21: 14 - 111
Wales U21 v Northern Ireland U21: 33 - 37
Wales U21 v Isle of Man U21: 63 - 30
England U21 v Northern Ireland U21: 65 - 32
Wales U21 v England U21: 32 - 63
Isle of Man U21 v Northern Ireland U21: 27 - 62
England U21 secured the Championship, comfortably winning all 3 of their matches. 2nd place went to Northern Ireland U21, 3rd to Wales U21 with Isle of Man U21 in 4th. Player of the Championships went to England's Aliyah Zaranyika whose defensive play stood out throughout the event.
In the 3 match Test Series between the Isle of Man and Wales (senior squad) the results were as follows:
Test Match 1 Isle of Man v Wales: 24 - 76
Test Match 2 Isle of Man v Wales: 26 - 85
Test Match 3 Isle of Man v Wales: 29 – 82
This was the first ever Test Series for the Isle of Man (named Manx Rams). Player of the Series went to Rachel Johnstone from the Isle of Man who played Centre for all three games and had a superb tournament.
Claire Battye, Head of Performance at Isle of Man Netball, said: "What a fantastic weekend for Isle of Man Netball and everyone in the performance programme. We always knew the competition was going to be tough, but we showed passion and heart throughout and I couldn't be prouder. We have already achieved so much in such a short time with the Manx Rams, and this was another fantastic opportunity to showcase our progress, playing against experienced and world-class talent. Well done all."
In addition to the Championship and Test Series, Isle of Man Netball had showcase matches for Men's Netball, Walking Netball and U19s v U17s. Isle of Man Netball has focused on ensuring netball is a game that can be enjoyed by all, no matter your age, gender or ability.
The event was supported by Dunwell Jewellers.
Pip Cross, President of Isle of Man Netball, commented: "I am incredibly proud of the weekend of netball we have just witnessed. A lot of hard work goes into the organisation of the event, and I can't thank everyone enough for making it happen. It is impossible for me to name you all, but know that we are incredibly grateful to each and every person involved in this weekend.
"Isle of Man Netball continues to go from strength to strength and we have a lot more international opportunities for 2022. In the coming weeks we will be announcing our 3-year strategy for Isle of Man Netball, our commitment to grow netball at all levels on the Isle of Man – it's an exciting time. To ensure we can continue to grow our sport, develop our performance programme, host international events and provide the very best opportunities to all netballers, we would welcome sponsors and supporters. If your business is interested in supporting Isle of Man Netball please reach out. Let's work together to take our fantastic sport to the next level!"
Up next for the Manx Rams is a trip to Scotland in December where a development squad for the Isle of Man will face Scotland U21 and the Manx Rams senior squad will play a single test match against Barbados (Bajan Gems) ranked 13th in the world.