Isle of Man Netball in Wales Quad Series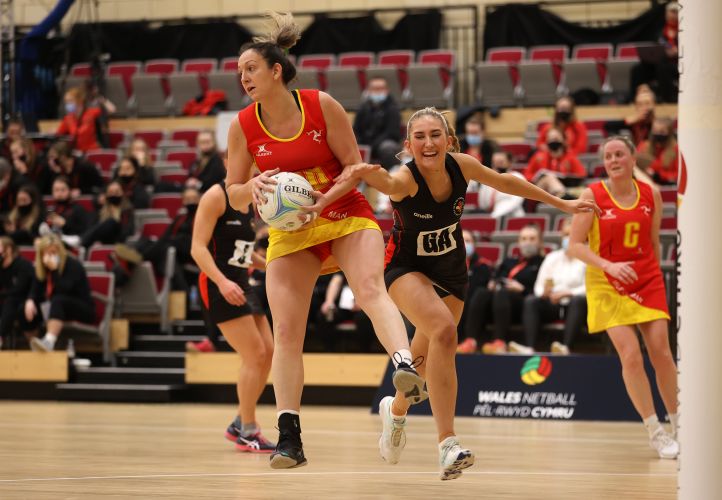 Manx Rams competed against Wales, Gibraltar and the Republic of Ireland
On the weekend (14-16 January) the Manx Rams competed in the Wales Quad Series where the Isle of Man, Wales, Gibraltar and Republic of Ireland played for the Wendy White trophy.
Wales, ranked 9th in the world, were crowned winners of the series. The results for the Isle of Man were as follows:
Gibraltar v Isle of Man: 42 - 55
Wales v Isle of Man: 87 - 25
Republic of Ireland v Isle of Man: 45 – 45
The Manx Rams secured a solid victory against Gibraltar, ranked 34th in the world, as well as a hard fought draw against 26th ranked team, Republic of Ireland.
Everyone in the squad took to the court across the series with Lexa Hattersley and Holly Hennessy gaining their first international caps.
Claire Battye, Head of Performance at Isle of Man Netball, said: "I'm incredibly proud of what we achieved in the Wales Quad Series. We delivered three good performances, including an important win against Gibraltar, and a nail biting draw against the Republic of Ireland, who are ranked just above us.

"It's important that we continue to gain experience at international events, particularly for our younger squad members. This series provided us with the opportunity to elevate some of our Under 21s to the senior squad and it was great to see two of our athletes gain their first international caps. It's going to be a busy 2022 and this is a superb start for our Manx Rams.

"A big thank you to Wales Netball for hosting a superb Quad Series, an congratulations on their win."
This was the first international gameplay for the Manx Rams in 2022. The performance team are working on additional international opportunities in preparation for the European Netball World Cup Qualifiers being held in Scotland in October 2022. The competition will determine places at the Netball World Cup 2023; the Scottish Thistles, Northern Ireland, Republic of Ireland, Wales, Gibraltar and Isle of Man will compete against each other.