Senior League Match Reports - 23 January 2022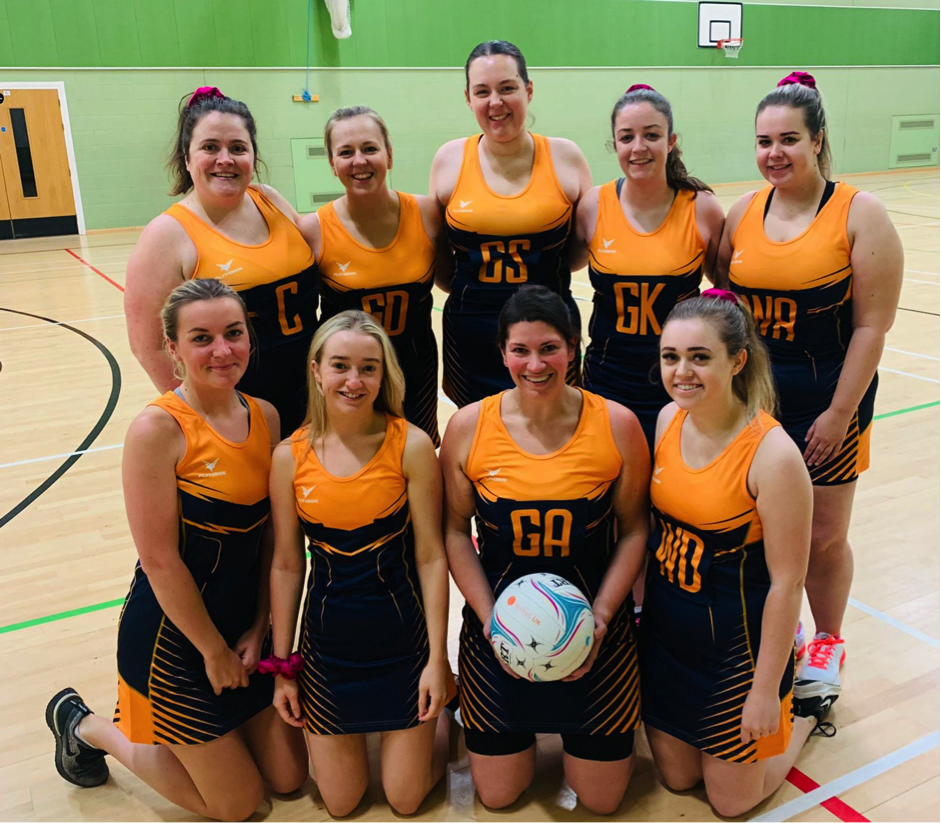 PREMIERSHIP
Thompson Travel 1, 22 v Simcocks Blue Eagles,38
POTM Mckenzie Pizzey for Simcocks Blue Eagles
Thompson 1 v Simcocks Blue is always a well contested match and with Thompson just taking the win last time it was going to be a well contested game. The first quarter started with fast pace and both teams were evenly matched seeing it finish 7 all.
As the second quarter started, the fast pace continued and the Simcocks defence really started to put pressure on the Thompson shooting circle of Georgia Harding (GS) and Sam Dunn (GA), making timely interceptions for successful conversions at the other end.
Thompson used the half time break as a chance to bring some fresh legs on, which had an immediate effect.  Ella Clague (WA) linked well with Ella Crowe (C) in the middle of the court for Fern Christian (GA) and Georgia Harding to convert well. Although the final score saw Simcocks Blue take the win, the excellent defence of Anne-Marie Crompton (GK), Molly Christian (GD) and Mika Chen (WD) ensured lots of turned over ball and half points for the girls in purple. POTM went to Mackenzie Pizzey for Simcocks Blue Eagles.
CHAMPIONSHIP
Young Farmers, 30 v Simcocks Green Eagles, 17
POTM Abby Jackson for Young Farmers
Both teams started well, and play was even throughout the 1st quarter however, towards the end Farmers showed some good attacking play and they pulled ahead by a few goals, the score was 9-5 to Farmers at the end of the 1st quarter.
Farmers really upped their game in the second quarter putting pressure on Simcock's. Young Farmers great defense of Cheryl Curphey (GK) & Lucy Parsons (GD) caused problems for Simcock's shooters Emily Osbourn (GS) & Hannah Skehan (GA) in the circle, and they increased their lead to 18-9.
After the half time break, Young Farmers continued to increase their lead with some great play all the way down the court, bringing the ball to the shooters in the circle and Sam Curphey (GS) and Danni Kelly (GA) were able to convert their shots. Farmers led 24-13 at the end of the 3rd quarter.
In the final quarter, both teams continued to play well but the final score ended 30-17 to Young Farmers. Player of the match went to a well-deserved, Abby Jackson from Young Farmers.
DIVISION 1
Marbree Missfits C, 28 v Atla Group Panthers, 20
POTM Tara Murphy for Marbree Missfits C
This match set out to be a close one with both teams sitting with 14 points in the league table.  With an almost goal for goal start, it was Marbree Missfits who had the edge, entering the 2nd quarter 3 goals ahead. Both teams defence were pushed hard but Marbree's shooting due of Sophie Wade (GS) and Tara Murphy (GA) worked seamlessly together to convert their shots into goals.  
No changes were made in the first half by either team, it was a very evenly matched game, despite Marbree Missfits leading 17-10 at the halfway point. Panthers pulled it back in the 3rd quarter with some great play, bringing the score very close.  There were some great interceptions from Panthers' Jess Edmonds (GD) which had the potential to turn the lead.  
Fresh legs in Emma Riley (C) helped Missfits power through in the final quarter. There was some excellent play through centre court from Panthers' Helen Gibson (C) and Mandy Hunter (WA) who worked tirelessly to get the ball to into their shooting circle.  
There were some excellent drives from Marbree Missfits Rachel Kewley (WA) who, along with Riley (C), fed well timed passes into Wade (GS) who rarely missed a shot. Marbree Missfits defence, Helen Watney (GK) and Suzanne Gray (GD) worked hard to contest every ball to the final whistle.  
The score ended 28 – 20 to Marbree with POTM going to Tara Murphy. 
DIVISION 2
Castletown Vikings, 6 v Suntera Global Ballasalla Frosts, 28
POTM Amy Gelling for Suntera Global Ballasalla Frosts
Castletown Vikings won the toss, with the first centre pass being taken by Sofia Douglas. Despite only having 6 players for the first quarter, Ballasalla came out fighting, with Jema Richardson (C) working extra hard to bring the ball down to the shooters in the absence of a wing attack. The first quarter finished 3-1 to Ballasalla.  
The next quarter saw Ballasalla extend their lead, now with a full team on court. Freya Jones (C) and Jema Richardson (WA) worked well together to bring the ball down court, but not without a good fight from Castletown's defence in the midcourt, with Sofia Douglas (C) and Amy Bloch (WD) getting some good deflections throughout the second quarter. The quarter finished 9-3 to Ballasalla.  
Ballasalla came out strong in the third quarter. Castletown's shooters Kirsty McConnell (GS) and Macy Hillier (GA) worked well together in the D, but the defence trio of  Brintha Yasodaran (GK), Amy Gelling (GD) and Alicia Kewley (WD) had a great quarter and were able to turn over a lot of ball for Ballasalla. The third quarter finished 18-5 to Ballasalla. 
Ballasalla carried their momentum into the fourth quarter, continuing to extend their lead. Ballasalla's shooters Lily Gell (GS) and Sophie Radcliffe (GA) remained strong throughout the final quarter. Castletown fought til the end, with their defence Olivia Cregeen (GK) and Phoebe Roosen (GD) working hard against Ballasalla's shooters up until the final whistle. However, Ballasalla were unmatched in the final quarter, winning the quarter 10-1. 
The match finished 28-6 to Ballasalla, with a well-deserved POTM going to Amy Gelling. 
Pictured Marbree Missfits C