Santander International Match Reports 29th October 2023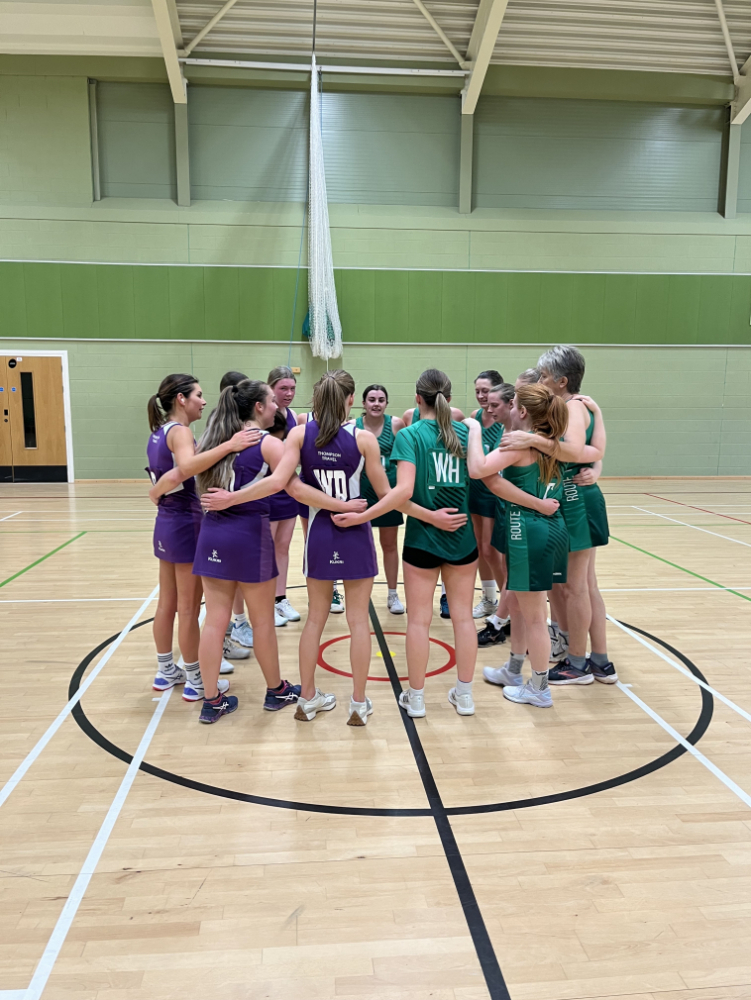 Premiership
Simcocks' Gold Eagles 23 v 46 Ballasalla B
It was clear from the first whistle that both teams were fired up for this game and looking for the win. Simcocks' centre, Angela Aumonier started the game with high intensity, working hard to move the ball down court and into the shooting circle. The Simcocks' shooting pairing of Heather Parsons and Helena Allenfound their form early on and were sinking some fantastic shots. The game went goal for goal for much of the quarter, but Ballasalla's
defence of Ella Carridge and Becky Dunne made some crucial turnovers which resulted in their side finishing 2 goals ahead at the first break.
The fast and frantic play in the second quarter led to some sloppy play from both sides however, Ballasalla's attack gained the edge with Kate Williams, WA making some excellent feeds into the shooters. Ciara Danes was impressive in defence, but there was little to be done to stop the high ball into Gemma Kirkham at GS and by half time, Ballasalla's lead had been increased to 10 goals.
Simocks made some changes to their line up as the game progressed and Ballasalla were able to capitalise on this as they took time to settle. Mairi Harrison for Ballasalla worked tirelessly, covering the court and intercepting the ball and was crucial in moving the ball down the court and by three quarter time Ballasalla led by 16 goals. The game was far from over and Simcocks maintained their work ethic, determined to gain half the score and a point from the game. Helen Mason steadied the game and fed the circle well and all players worked hard for each other right until the final whistle. This resulted in the final score of 46-23 to Ballasalla ensuring that Simcocks' got their well-earned point for half score.
POTM: Dani Murphy (Ballasalla)
Championship
Route 1 Turbos 43 v 25 Thompson 2
Route 1 Turbos had a slightly different starting team than usual, with a couple of missing players due to injury or holidays. However, half-term breaks meant that Ashleigh Baines(WA) and Kate Doran (GA) were able to make up a strong attack allowing Turbos to capitalise on a few turnovers in the first quarter. Defensive pressure from Thompson 2's Charlotte Geldert (GD) and Hannah Clague (GK) meant that Route 1 had to be patient in settling into
their new attacking combination but ultimately went into the second quarter leading 9-4.Thompson came out stronger in the second quarter with shooters Chloe Batty (GA) and Chloe Schofield (GS) landing more goals than the previous quarter. However, Route 1's Hannah Snidal (GK) interceptions were on fire and Route 1 extended their lead to 21-11.
Some changes for Route 1 going into the third quarter with Sue Webster (GS) and Maciebelle Kneen (WD) playing up for Turbos, both showing good composure and patience allowing Route 1 to settle well into the new combinations. Thompson's Karen Duncan (C )shown good defensive pressure meaning Route 1's attack had to work the ball around more to get it into the circle. The score going into the final quarter was 32-16 to Route 1. Thompson came out fighting in the last quarter as they were on the threshold for meeting half the final score. Changes in their attack with Jessica Stanley moving from WD to GA meant that Thompson had their best quarter of the game so far. However Route 1 ended up winning the game with a final score of 43-25 with POTM going to Hannah Snidal who had a brilliant game with countless interceptions.
POTM: Hannah Snidal (Route 1)