Santander International Match Report 26th March 2023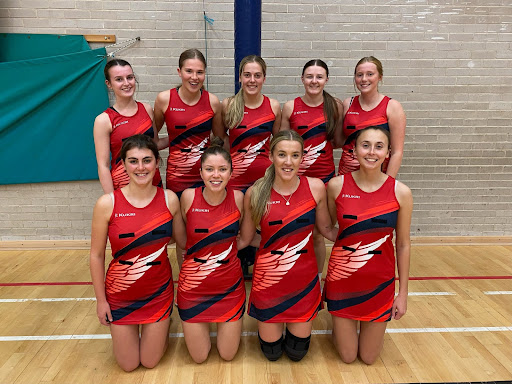 Championship
Simcocks Gold Eagles, 40 v Marbree Missfits,16
POTM Aailish Kelly for Simcocks Gold
This was both teams last match of the season with Marbree Missfits needing the winto have a chance of staying up in the Championship Division next season. With Simcocks Gold only losing one match so far all season it was set to be a tough Match.
Both teams took a while to settle into the game, however Simcocks great defence,Ella Page, Megan Howland and Lucy Faragher getting some key turnovers the first quarter ended 10-3 to Simcocks Gold.
The second quarter saw both teams come back onto the court strong. Mid court players for Marbree Missfits WA, Tara Murphy and C, Abi Robson worked well together to bring the ball through court for Christie Sayle and Emma Nicolson to convert with
some great movement making it difficult for the Simcocks Gold defenders. However, some great interceptions from C, Ella Crowe allowed the balls to quickly be converted and brought up the court beautifully by WD, Rachel Craig and WA, Ella Page for
Simcocks Golds shooters and at half time the score was extended further for Simcocks Golds to 21-7.
At the beginning of the second half, Marbree Missfits made some further changes bringing on Sophie Wade into shooting. Simcocks Gold continued to apply the pressure again converting the balls and bringing them down to shooters Helena
Allen and Aailish Kelly who were converting these well albeit Marbree Missfits defenders Lisa Quilliam and Suzanne Gray were appling great pressure in Simcocks Gold's circle not making it easy. Quarter three ended 33-12 to Simcocks Gold.
Going into the last quarter, Marbree Missfits were keen to apply further pressure to Simcocks Golds to try and achieve half points. After some fantastic defence and interceptions from Simcocks WD, Dionne Wall and GK, Megan Howland, Marbree
Missfits attack were having to work harder to convert their centre passes. Player of the Match, Aailish Kelly and GA Helena Allen had great movement in the circle and scored some fantastic shots even with the great defensive work applied fromMarbree Missfits GK, Amy Kneale making it difficult. Simcocks won the game 40-16.