Senior League Match Reports - 21 November 2021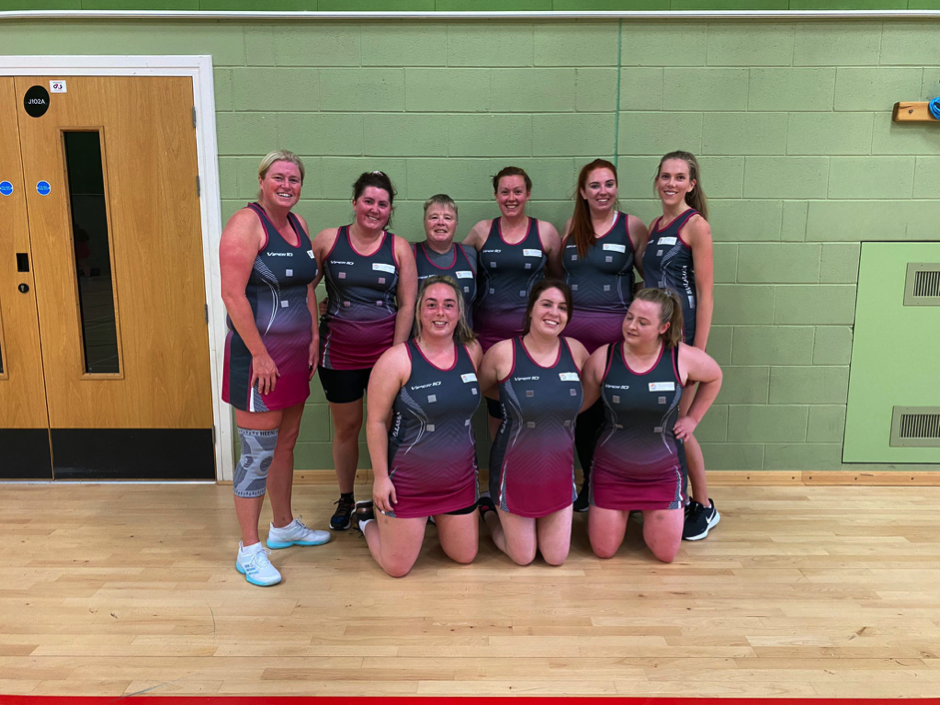 PREMIERSHIP
Manx Fellas, 35 v Suntera Global Ballasalla Blizzards, 25
POTM Stephen Mulhern for Manx Fellas
Both teams were looking to challenge themselves in this match.  With Fellas having had a succession of wins and with Ashley Hall leading a determined group of players this was always going to be a battle for both teams. 
Ballasalla Blizzards started the game off strong and with purpose which put Manx Fellas on the backfoot going into the second quarter.  Ballasalla's Rachel Hopkinson was strong and used some good court craft against eventual player of the match Stephen Mulhern, to gain ground to the post and sink the shots or pass to GS Kate Tebay.  This confident play allowed Ballasalla to stay in touch throughout the game.  
The third quarter saw some great defence at both ends with Lydia Shaw, Amelia Brockbanks and Mairi Harrison getting tips from fast passing but equally matched by the rebounding and defence of Neil Cowley and Stephen Mulhern for the AON Fellas. 
Quarter 4 saw some great play through the court from Michael Pardoe, Tony Eccles and Robert Mason to bring to Michael Lewis who was on form in the shooting circle backed up by Michael Josem to take the Fellas to a ten-goal lead at the final whistle. Both teams pushed for the result in this game and the performance of both teams was outstanding
CHAMPIONSHIP
Simcocks Gold Eagles 20, v Route 1 Connections, 38
POTM Rhian Evans for Route 1 Connections
Simcocks Gold faced Route 1 on Sunday in a match that saw both teams give maximum energy and focus. Both teams worked tirelessly to feed the ball into their attacking ends. Shots from Route 1's shooter, Nicki Spencer and Eliana Kneen were accurate throughout the match, pushing them into the lead. Simcocks' Katie Reubens & Dionne Wall were also making their shots count throughout the match, and they worked hard to successfully pounce on the rebounds if their shots were missed.
Mid court saw plenty of driving for the ball from both teams, with Route 1's Rhian Evans being exceptionally quick around the court. Lucy Faragher of Simcocks put persistent pressure on mid court and made some great interceptions. Simcocks Golds defence, Jess Hatton and Megan Howland maintained pressure on the strong Route 1 attack throughout, making some great tips and turnovers.
Both teams were determined and played well as a team, and it was great to see all players encouraging their teammates in each quarter.
The game ended 20 - 38 to Route 1.
DIVISION 1
Suntera Global Ballasalla Earthquakes, 22 v Castletown Celts, 30
POTM Holly Charmer for Castletown Celts
Ballasalla Earthquakes started strongly taking a three-point lead with some positive passing and confident shooting from Rebecca Hands and Jo Hicks.  Castletown Celts settled into a rhythm and Vicki Corrin (WA) and Rebecca O'Neill(C) were able to feed their shooters who started to find their range, finishing the quarter strongly with a 5-point lead (10-5 to Castletown Celts)
Celts continued to dominate during the 2nd quarter with Holly Charmer and Amy Dunne making a number of key interceptions and rebounds in the defensive circle.  Whilst in the shooting circle both Sarah Cutts (GA) and Louse Skelly (GS) were combining well to keep the score ticking over, increasing their lead to 9 at half time.  (19-10 to Celts)
Ballasalla began the third quarter with a more focused approach.  The defensive unit of Gemma Kermode, Brintha Yasodoran and Clare Crowe had several key touches that unsettled the shooter's enough for the Earthquakes to gain possession and convert successfully at the other end.  The Celts lead was reduced to 6, at the end of the third quarter (24-18 to Celts) 
The fourth quarter started at a steady rate with both teams determined to make the most of the last 12 minutes.  The Earthquakes tried to force the ball down the court with powerful passing, but many balls went astray, and Holly Charmer was able to capitalise on these errors.  Celts were able to once again pull away and increase their lead and finish with a 30-22 victory.
DIVISION 2
Route 1 Volts, 31 v Suntera Global Blizzards Gales, 11
POTM Sarah Morgan for Route 1 Volts
This match saw two teams who haven't played each other in the past, so it was always going to be an interesting match. In the first quarter Volts took an early lead with Sarah Morgan (GS) and Ella Page (GA) shooting on target against the defensive team of Charlotte Brooks (GK) and Trinity Mebden (GD). At the other end of the court Emily Christian (GK) and Olivia Quayle (GD) worked hard together defending their circle and making some key interceptions against Nessa Farren (GS) and Ihona Bridges (GA) leaving the first quarter 7-2 in Volts' favour. 
The second quarter saw some good defensive work from Volts, with Kelly McMullin (WD) and Kim Beevers (C) working well together to get the ball back up the court to Rachel Caine (WA) feeding into Volts' circle. Balla worked hard from the centre passes with Annelise Mellor (C) and Annabelle Clague (WA) trying to get the ball into their circle where they scored their largest number of quarter goals of the match. Volts, however, managed to extend their lead even further, finishing the first half at 16-7.
In the third quarter Volts moved some of their players around with Rachel making her debut as Centre and Holly Kelly coming on as WA playing against Balla's Rosie Parsons (WD). Balla kept their team as it was but struggled to pull back against Volts who overturned many of their centre passes. Strong defending, great passes into the circle and on form shooting from Sarah and Ella meant Volts finished the quarter 25-9.
The final quarter saw some more changes from Volts with Kim coming back on as Centre and Olivia and Emily swapping their defensive roles. Balla also made some changes to their team, swapping their defenders over,with Trinity moving into GK and Charlotte moving into GD. Volts extended their lead further and finished the game 31-11. 
Pictured: Suntera Global Ballasalla Earthquakes Team