Junior League Match Reports 22nd January 2023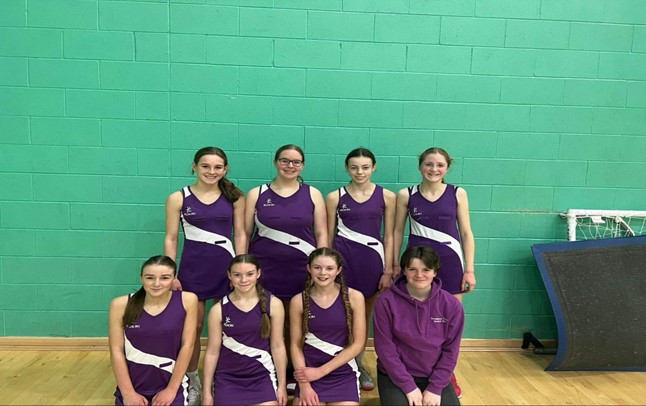 Under 15's Division 1
Simcocks Silver Eagles 33 v Suntera Global Ballasalla 1 6
Simcocks Silver began this game with confidence and took an early lead. Isla Grainger and Hannah Karran were dominant in the centre court, which enabled their side to gain six goals on the Ballasalla side by quarter time.
In the second quarter, Ballasalla fought harder with Ella Winstanley trying to guide her team to more shooting opportunities, while Ellie Cowin was trying to halt the Simcocks flow at the defensive end. There was some success but at half time Simcocks led by 9.
The third quarter saw some big positional changes from both teams but it was Simcocks who were able to capitalise. Umata Pugova and Breesha Jenkins were clinical in their shooting and scored massive 16 goals between them. Ballasalla returned their team to a more familiar line up with Saoirse Hodson and Lucinda Musson in defence and they curbed the Simcocks momentum but the damage had already been done. Simcocks won the game 33-6.
POTM for each team were Isla Grainger for Simcocks and Molly Hinds for Ballasalla.
Under 15's Division 2
Manx Gems Amethysts 24 v Manx Gems Opals 7
A Manx Gems Derby and first league game for the U15's. Amethysts had a great start with Isla Palmer (C) and Erin Bell (WA) feeding the shooting circle and excellent defending from Molly Needham (GD) and Molly Bevan (GK) saw Amethysts taking the first quarter 7-0.
A few changes for Opal in defence with Abbie Mills (GK) and Lily Sutton (GD) playing really well together but unable to stop strong movement and shooting from Georgia Halsall (GA) and Erin Kirkwood (GS) for Amethysts who extended their lead to 17-0 second quarter.

Third quarter started with a fighting spirit from Opals and at last some goals from Freya Ramadan (GA) and Holly McEvoy (GS) with the mid court of Lily Wicklow-Cameron (WD), Malwina Soltysiak (WA) and Selena Boyde © working hard in order to ensure the transition down the court was successful. Defensive work and better communication saw Opals win the third quarter but Amethysts held the lead into the four quarter 20-6.
Final quarter and a much closer quarter with some great interceptions from Emilia Lovett (WD) for Amethysts. Opals Griaghah Morgan (WD) was strong in mid court defence with Alyssia Teare (C) working tirelessly across court. Final score was 24-7 to Amethysts.
Well deserved POTM went to Isla Palmer (C) for Amethysts and Lily Sutton (GD) for Opals.
Under 13's Division 1
Castletown Comets 13 v Ramsey Flames 3
A first full fixtures for the Ramsey Flames of the 2022/23 season, the girls took to court with excitement. The great work of Castletown was however quickly rewarded thanks to sharp shooting from GA Sienna Brookfield & GS Rebecca Bloch as Castletown took a 6-0 lead into the quarter time.
A review with the coaches and a change in defence to introduce Florence Bailey for Ramsey saw some great intercepts in the second quarter which was awarded by a first goal from Lily Groves. Castletown however kept the pressure on with great teamwork giving a half time score of 9-1.
The third quarter was strong from the defences of both teams with Florence Bailey, Georgia Thompson and Grace Kelly of Ramsey and Neve Kneen, Neve McNaught and Tilly Strudwick equally matched at either ends of the court. A quarter score of 1-1 and 10-2 score leading into the final quarter.
Fighting for every ball, Ramsey scored a further goal in the final quarter with great teamwork to bring the ball down court. Further pressure from Castletown and sharp work down the court saw them score a further 3 goals with a final score of 13-3. A great game by both teams with promise of success for the coming matches.
Ramsey POTM Florence Bailey at GD.
Castletown POTM Sienna Brookfield at GA.
Under 13's Division 2
Manx Gems Ambers 2 v Simcocks Golden Eagles 4
This game was closely contested from start to finish, with both teams working really hard throughout the court. The defence for both Simcocks and Manx Gems were reading the game well, with Lilly Boyle (Simcocks) and Emily Cregeen (Manx Gems) getting a number of interceptions to turn the play over for their teams. The defence for both teams managed to stop any goals getting scored in Q1, despite hard work down the court to get the ball to the shooters.
Simcocks managed to work hard and get the ball into Scarlett Crompton during Q2 who scored the first goal of the game. Maia Keggen (Simcocks) worked tirelessly throughout the mid court, helping to get the ball into Rhys Prince who scored the second goal of the game. It was all to play for in Q4 and both teams were keen to go for the win, but the final whistle blew with Simcocks taking the win 4-2.
POTM Lilly Boyle (Simcocks) & Annabelle Fitzpatrick (Manx Gems).